Text: Andrius Užkalnis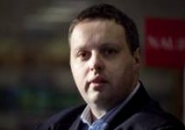 I am positive that Lithuania - not only the expats who live there - need writing in English. A lot of it. As much as possible, really.
The presence of a vibrant expat community, which is closely linked with Lithuanians or half-Lithuanians (if I may use this term), who have spent many years overseas and had been exposed to Western culture, is critical as an ultimate mind-opener.
I have always been going against the flow in that I said good things about the Lithuanians who go abroad for a year, for five years or even for good. In Lithuania, it is often seen as a disaster and an exodus of biblical proportions with similarly apocalyptic implications. I see it as a natural part of being a free country. Even if it leads to some transformations that may even be irreversible, such as compromises over what is seen as Lithuanian ethnic purity (which is an artificial and doubtful construct anyway, in my view) or a changer of the Lithuanian identity, emigration is good because it opens the mind and creates new patterns of thinking. It opens up angles which people have not thought about. It changes the way that parts of the society interact with each other and their relationship with the government, the establishment, the educational elite.
Read more at our
Section 11 – LITHUANIA IN THE WORLD