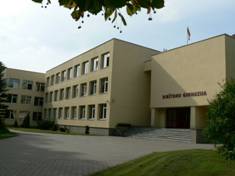 Some time ago I met with a very energetic school rector, Alvydas Urbanavičius at Birštonas Secondary School. Birštonas is a small town about 30 km from Kaunas.
I asked him what had made his school so successful and his answer was quick and clear: "We were very lucky to be 'adopted' by a Danish school already in the early 1990s, and the Danes taught us how to run a modern school and also gave us important funding so that we could avoid many of the problems that other Lithuanian schools and the very educational system here still is fighting with".
He used some time to explain me what a good school is all about, and how the Government has to act if the school system in Lithuania should be able to reach a western level, but he became silent for a moment when I ask him what he would have done to the school system if HE was the Minister of Education.
When the answer finally came, the young rector's face had become very serious: "It would not help much to be Minister on the top of a non-functional system as is the case today, so the first thing I would have to do would be to perform fundamental changes in the Ministry and only then start a very much needed modernising of the complete educational system in Lithuania"...