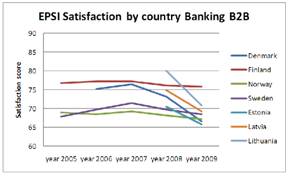 Since 2004 EPSI Baltic has been monitoring the pulse of the consumer trends in the Baltic region. Here is their latest conclusion regarding bank customer satisfaction:
"We may conclude, that majority of observed banks should concentrate on re-establishing of trustful relationships with their customers in Lithuania. In Latvia, only SEB and Nordea managed to gain some ground in terms of consumer loyalty, while Parex, suffers from the biggest loyalty drop with more than 14 points, this is the record for the entire industry for the last five years."
The Lithuanian banking market remained weak throughout 2010. Erkki Raasuke, Swedbank AB's chief financial officer, reportedly commented at a recent conference in Tallinn that the Lithuanian banking market, though the Baltic nations' weakest, still bleeds quite badly. He also noted that Estonia's market was recovering, while Latvia had bottomed out. The bank said that it expects to return to profit in Estonia first. Lithuania's market still bleeds quite badly today, mainly the retail market that is tied to the high unemployment, Raasuke said. Loans overdue for more than 60 days are still growing in Lithuania.