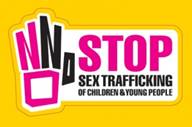 Children sex trafficking is a sickening trade hidden away in British backstreet brothels, where children from the world's poorest countries are held against their will.
Some are under 10 years old, unable to speak a single word of English and separated from their families on the fake promise of a better life in Britain.
Sold as commodities to be bought by pimps when they arrive here, they have little chance of escape.
Their bleak journey begins in the poorest nations of Africa, Asia and Eastern Europe.

"Audra was 17 when she was recruited by a trafficker from a children's home in Lithuania.
When she arrived at Dover, in the UK, with four other girls in 2007, they were taken directly to a brothel in north west England and forced to work as prostitutes.
She was then moved to another brothel in south west Wales. Within 24 hours of arriving Audra was rescued by police from the Welsh brothel and placed in a safe house - after she contacted Lithuania and desperately appealed for help to return to the children's home."
 
The UK 'Mirror' newspapers have this week started a 'crusade to end horror of child sex trafficking.' 
 
YOU an help by signing their petition!

Read more at: http://www.mirror.co.uk/news/top-stories/2011/03/15/crusade-to-end-horror-of-child-sex-trafficking-sign-our-petition-today-115875-22990327/#ixzz1HEvVoR9W