It is spring in Lithuania! The real estate market is starting to pick up after three dreary years. I will therefore now offer those interested in a new home or a new investment, to learn more about two objects in what is normally referred to as the luxury class.
The first object is an existing penthouse apartment in Vilnius Old Town. The second object is a planned townhouse development situated at the river Neris in Zverynas.
Please contact me as soon as possible if any of these objects are of interest for you.
Write me at aage.myhre@VilNews.com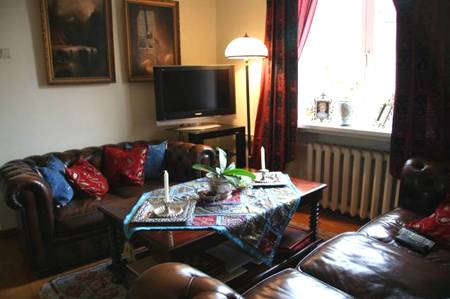 Three-floor Old Town penthouse. One of the best in Vilnius. Prime location.
The apartment is located at the very heart of Vilnius Old Town – yet on top of it, far away from the street's hustle and bustle! It is a genuine penthouse on three levels – with a main floor, a mezzanine and a top floor with the most fantastic views over Vilnius Old Town (7,5 meters from main floor to the ceiling top!).
It was architect-designed and built in 1999, called one of the most desirable and exclusive apartments in Vilnius by the press. All equipment is state-of-the-art, including all plumbing, wiring and other hidden installations. All windows and doors are new, the roof and walls are thoroughly insulated with mineral wool, and the apartment is decorated to the highest standard throughout. Mainly parquet flooring, with ceramic tiles in bathrooms. The top floor view over Vilnius Old Town has to be seen to be believed.


Three exclusive townhouses, each with around 200 m2 floor space, are planned built at one of Lithuania's very best land plots, in the Vilnius district of Zverynas. The plot is exceptionally green, south west oriented, bordering the river Neris ant the huge, forested Vingis Park at the other river side.
Each townhouse will cover a total floor space of between 150 and 200 sq.m., plus double garages for each unit. Each unit will also have private gardens and plenty of outdoor space for kids and grown ups.
Advantages of the development are as follows:
· Zverynas is known as the diplomat district of Vilnius; prestigious, safe and green
· The development is located within walking distance from the city centre
· The townhouses will be planned with attention to security for kids and grownups
· Each unit can be more or less tailor made for each family
· The green outdoor areas/gardens are ideal for barbeque, private life etc
· The development offers unique privacy qualities in an utmost green environment
· The view from each of the units will be to the west, to Vingis Park and the River Neris