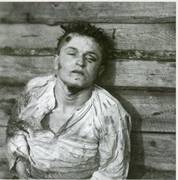 One of the many killed Lithuanian partisans, Juozas Luksa – "Skirmantas", "Daumantas", after his death on the 4th of September 1951.
You in the West preferred not to know, "the inconvenient truth" is.
I learned that the hard way, from my grandparents & other family who closely worked with Skirmantas and other top Lithuanian freedom war leaders in the Seinai-Punskas (Sejny-Punsk), Poland, during their secret border crossing missions to the West (via Gdansk and Warsaw) and back to Lithuania in 1946-50. My family was put in hard-regime prisons for that, all the hard earned property confiscated, and I was born a communist slave, so to speak. While in high school I rebelled against the Soviet occupation of Lithuania, was arrested and thrown out of school, persecuted for a long time by communist secret services, and finally made my way to the West: Glory Be to God!
Yours sincerely,
Valdas Samonis,
Canada
P.S. My family was decorated with Lithuania's top freedom medals by President Adamkus. I was officially recognized by free Poland (IPN) as the freedom activist persecuted by the communist regime.