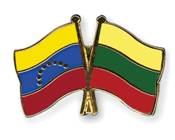 Dear Mr. Aage Myhre:
Kindest regards from Venezuela! First of all, let me introduce myself: my name is Vytenis Folkmanas and I'm writing you from Venezuela. As you might realize from my name, I'm son of a Lithuanian emigrant who arrived with his parents and sister to Venezuela in 1948. I'm very proud of my Lithuanian heritage and actually I'm the President of the Lithuanian Community of Venezuela, in an effort to rescue the traditions, customs, and language within our small community.
I'm also very happy to be one of the worldwide privileged receiving VILNEWS. Right now, I've just finished reading your wonderful article "LOOK TO NORWAY" and it makes me sadder because I compare it to what is happening here in our country Venezuela and find a similar situation. Although our country could be one of the richest countries in the world just thanks to oil income, the internal situation doesn't reflect it AT ALL!!! I think that it couldn't be worse!! As you mention the situation with Lithuania and how Norway has tried to help them, here is the same. Our country is seeking help and support from countries as Cuba, Iran, Nicaragua, Libya, and China in economic, social, energetic, tourism and industrial topics instead of from developed countries. Just with the tourism, Venezuela could gain the same or more income than with the oil production, as we have one of the most blessed countries, geographically speaking, in the world, but our governments have always been blind to this industry (tourism)...That is just a small example. How I wish that they could see the example of Norway, Finland, and other countries, especially if they offer their cooperation. Here we say that is a "false pride" not to receive support and advice from others!
And speaking of Lithuania, is also true , specially the comment of Mr Sliupas when he wrote:
"One of my American colleagues, who was sincerely trying to help Lithuania, said "Sending e-mail to Lithuania is like sending it to the black hole of the universe. Everything goes one way and nothing comes back". That is so true. I myself wrote emails to Lithuania, to the ministries, etc offering to help them promote Lithuania as a tourist destination here in Venezuela, as here is almost as unknown country and never had no answer at all. Is very sad, and I love everything what Lithuania means.
Once again, thank you very much for sending me your VILNEWS, many regards and I remain here at your disposition!
Vytenis Folkmanas