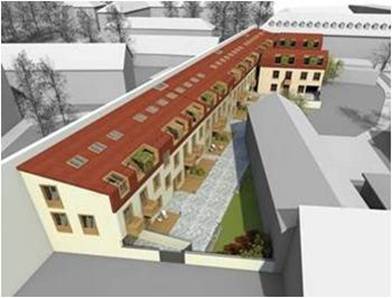 "Kotrynos vartai", a residential project in Vilnius Old Town.
More than 4.000 sq m. Building works already started.
Today's real estate updates by
NEWSEC – Re&Solution www.newsec.lt
Residential Sector: Optimism has returned to the market. Increasing number of pre-sale agreements in the project market indicates shrinking supply. Potential buyers are mostly looking for projects with good infrastructure – schools, kindergartens, public transportation services etc. in the neighbourhood.
Office Sector: There is lack of new companies in the market. Existing companies are very cautious regarding expansion. Landlords have started a new wave of re-negotiations, trying to increase rental rates.
Retail Sector: Turnover have stabilized and major retailers have started to report slight growth over the first quarter of this year. Retail sector returns back on a positive path!
Warehouse Sector: Warehouses are still fully stocked with goods. It is expected that recovery in consumption and growth of retail turnover will be followed by warehouse sector upturn.
NEWSEC - BALTIC PROPERTY MARKET REPORT