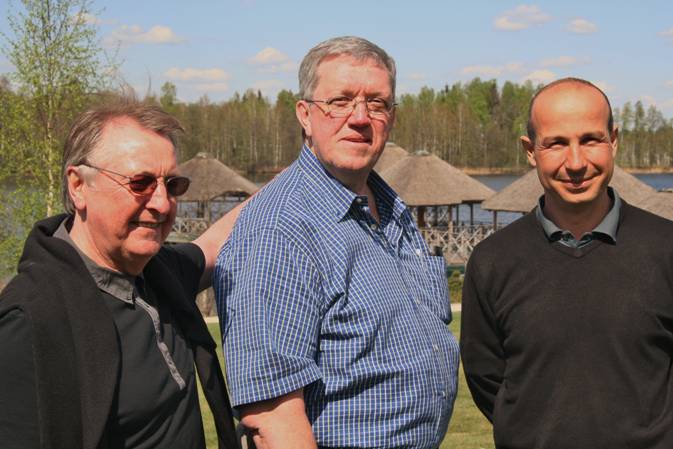 These three gentlemen are essential in the property development, the hotel and the golf club at Le Meridien Vilnius – Sandy Blackwood (Director of Sales and Marketing, Vilnius Golf Spa & Resort), Robert Overend (Director for Sales and Marketing at the hotel), and Yiannis Tsioukanis (Golf Operations Manager).
Vilnius Golf & Spa Resort has begun Stage one of a two stage development to build a 'City of Dreams' in a 350 acre Private Estate only minutes from Vilnius. The Estate, adjacent to the Lé Meridien Vilnius hotel and has the Baltics' only 18-hole PGA championship golf course; around which construction began in October 2010 of one bedroom apartments, two and three bedroom townhouses and three and four bedroom villas.
The exteriors of the properties are designed by Darling Associates London, who won the best architectural practice of the year in 2009 by the Architect Journal and the interior design concepts are by Anoushka Hempel Design studio London, who designed 3 award winning boutique hotels (Blakes London, Blakes Amsterdam, The Hempel, London) which showcase their signature style.
The properties are available for residential and fractional owners who will receive a Vilnius Golf & Spa Resort VIP Passport giving year round use of the Resort and Hotel facilities to exclusively enjoy considerable discounts on hotel and event rooms, food and beverage, Spa with its 20 metre swimming pool, saunas, steam rooms, gymnasium, treatment rooms, outdoor tennis, boating and fishing on the resort's lakes, and of course the golf.
Stage two of the development, which commences after completion of stage one, includes the building of a indoor multifunction sport centre that features full size courts for basketball, volleyball, football and tennis. And also includes a cinema, casino, additional themed restaurants, boutique shops and delicatessen, medical centre, family zoo, tropical beach Spa, offices for rent or purchase and a business entertainment centre.
Fractional ownership
It is an exciting modern, fast growing market, and now considered to be one of the most financially astute ways of purchasing vacation homes, because it allows a number of unconnected buyers to combine resources and collectively own a property. Individual fractional owners do not need to find the other owners as this is organised by the developer. For a new investor it's the ideal low-priced purchase and your property will be fully furnished to luxurious standards and serviced on your behalf by a management company. The property is yours to use every year for the period of your purchase and should never stand empty, as the management company can, if you wish, rent the property out, earning you an income from the periods you don't want to use.
Lithuanians may want to holiday in the City of Dreams, but also do not have to as they can travel the world in luxury by exchanging into other beautiful resorts all around the world via Wyndham Exchange & Rentals.
 Every fractional owner is free to sell their share of the property at any time. However, in accordance with the contract, the Resort's international trustees (Citadel Trustees) is empowered to sell the entire shareholding of the property in 15 years time to the highest bidder on the open market and return the proceeds to the fractional owners. So, think about it: if all you got was your money back you would have in essence had 15 years of luxurious holidays almost for free.