Chess:
Viktorija Čmilytė from Šiauliai wins European Women Championship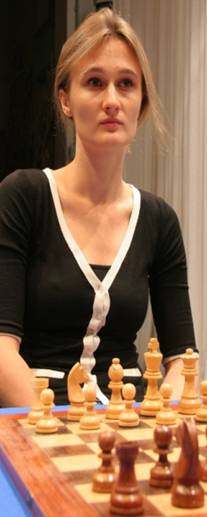 Photo: www.siauliai.lt
Lithuanian Viktorija Čmilytė (born 6 August 1983 in Šiauliai) has won the European Women Championship in Tbilisi, Georgia. The grandmaster finished clear first with a score of 9 out of 11. Former World Champion GM Antoaneta Stefanova of Bulgaria took the silver medal with 8.5/11 while GM Elina Danielian of Armenia edged out IM Svetlana Matveeva (Russia) on tie-break to win bronze.
The 12th European Individual Women's Championships took place 6-18 May 2011 in Tbilisi. It was organized by the Georgian Chess Federation, under the auspices of the Tbilisi City Hall and the European Chess Union. The tournament hall was in the Sheraton Metechi Palace Hotel of the Georgian capital.
The tournament was open all female players representing the federations which comprise the European Chess Union (FIDE zones 1.1 to 1.10) regardless of their title or rating. There was also no limit of participants per federation.
The championship was an 11-round Swiss. The rate of play was 90 minutes for 40 moves plus 30 minutes for the rest of the game with an increment of 30 seconds per move, starting from move one.
Viktorija Cmilyte had an excellent start and won her first five games. By then she was leading by a full point, but in the next round she lost to Antoaneta Stefanova. Eventually this would be her only loss.
After an easy win against Russian IM Marina Romanko and a draw with Black against IM Bela Khotenashvili, some crucial games followed. Cmilyte beat two experienced grandmasters in a row: Pia Cramling with White and Ketevan Arakhamia-Grant Ketevan with Black. Two quick draws on the top boards in the final round meant that, the Lithuanian lady kept her sole lead in the final standings.