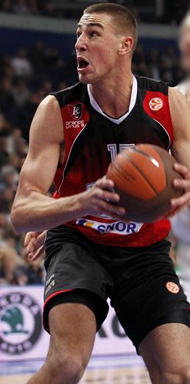 Jonas Valančiūnas
By Mike Ulmer
This week the Toronto Raptors drafted Jonas Valanciunas out of Lithuania and while it matters little where he is from, it matters quite a bit where he will stand.
At centre.
When, of course is anybody's guess. Still, the Raptors decision to draft him at number five at Thursday's NBA draft was great fun to dissect.
First, the whole deal was a surprise. It had widely been assumed that given the chance, the Raptors would opt for either Kemba Walker or Brandon Knight. Both were point guards and explosive athletes who could supercharge the Raptors in the open count and supplement Jerryd Bayless and Jose Calderon.
It turns out no one was more shocked than the 19-year-old Lithuanian.
"I was so surprised, so happy," he said from New Jersey moments after being selected. "I didn't think I was going to be drafted so high."
Valanciunas, a kid whose 231 pounds is spread on a surface about the size of PEI knows he must get bigger but he covets the chance to bang bodies in the low post. He sees himself as a centre, now and forever.
"I'm not ready yet but I will work hard and improve. I will get my body bigger and stronger."
At 19, it will take a while for Valanciunas to reach Toronto.
There are media reports of a necessary buyout with his European team and the fact that he is probably still growing means immediate immersion in the NBA is highly unlikely.
All this, in turn, means that while Andrea Bargnani pines for more time at power forward, his immediate future looks to be at centre where he will be subject to the defensive demands of new coach Dwane Casey. There will be help for Bargnani. It will be Valanciunas but it will not arrive soon.
The selection will prompt the usual eye-rolling that the Raptors are Euro-centric. By selecting a European big man instead of an American guard, the Raptors will invite still more people to buy into that notion.
Truth is, the Raptors got the best potential centre in the draft. Valanciunas pocketed 12.8 points and 8.5 rebounds in just 21 minutes a night in Lithuania. He is smooth for a big man with a great motor and a hunger for defence and rebounding.
Finally, there is the question of timing. When GM Bryan Colangelo signed a two-year contract extension with a club option for the third no one thought he would invest in something as slow to mature as a green banana. Yet he drafted a player whose journey to the roster could take years.
It speaks to an enviable confidence. Say what you want about Colangelo, his only term is long.
Read more about Jonas Valančiūnas:
http://en.wikipedia.org/wiki/Jonas_Valančiūnas