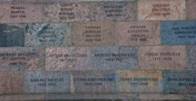 Wall of former KGB headquarters (now museum) in Vilnius. Each stone is engraved with the name of a Lithuanian partisan who was executed by the Soviets.
You reduced me to tears with your addition of one Song of Freedom by Lithuanian fighters [Oh little falcon].
Those songs, sung by my family in secret when I was a kid, still ring in my ears today, e.g. about the Kalniske battle or about the Soviet murdered freedom fighters whose bloodied bodies were put by the NKVD for display and further humiliation in the Lithuanian town squares:
"Pagulde Tave ant akmeneliu, o aplink Tave kraujo klanai
Ir neatejo nei Motinele, nei Tavo Broliai narsus kariai".
Valdas Samonis,
Canada