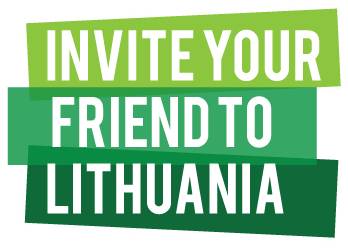 A new campaign is born! The campaign is called 'Invite Your Friend to Lithuania', already receiving good support from service businesses all over the country and abroad. Those who invite friends to Lithuania can even win free flights to Vilnius, Kaunas or Palanga, visit various events free of charge, get souvenirs and receive discounts different places.
People are invited to join the initiative at www.invite2lithuania.com or at the initiative's Facebook Page where we all are encouraged to invite our friends and acquaintances to Lithuania.
The campaign seeks to invite a record number of people to visit Lithuania in 2011-2012 through Lithuanians and friends of Lithuania all around the world. The Campaign is organized by 'Global Lithuanian Leaders' (GLL) - a network that unites talented professionals and leaders who associate themselves with Lithuania and contribute to the continued economic, political, social and cultural transformations currently underway in Lithuania.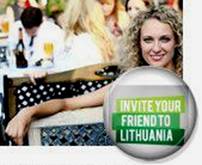 Dalia Venslovaitė
Dalia Venslovaitė, Director at GLL tells that 'This year Lithuania has already welcomed a record number of visitors. Our goal is that people who have already visited and enjoyed Lithuania would invite others through their social networks. Moreover, we focus much on Lithuanians living abroad. They are our best ambassadors in revealing why it is worthwhile visiting Lithuania'.
According to the Lithuanian State Department of Tourism under the Ministry of Economy, during the first quarter of 2011 there was a 39.4 % increase in tourism in Lithuania comparing to the previous year. During the latest quarter Lithuania has welcomed 150 000 tourists while the total number of tourists last year was 107 000. One tourist spends around 1.040 LTL daily. Last year an average stay of one tourist in Lithuania was 4.3 nights. Hence, one tourist alone brings around 600 LTL directly into the state budget.