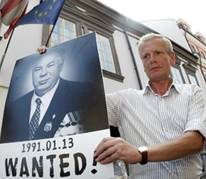 Protests outside the Austrian Embassy in Vilnius.
Photo: EPA
The international association of veterans of the Alpha Group counter-terrorist unit has asked the Russian President in an open letter to defend their colleague Mikhail Golovatov, whom Lithuania suspects of involvement in the firing on a demonstration in Vilnius.
The authors of the letter point out that Lithuania's political forces are staging provocations against Alpha Group veterans to settle their home problems through a search for an enemy from without.
Golovatov was arrested in Austria on July 14th on a Lithuania arrest warrant. He returned to Moscow two days later since the Austrian police had no charge to bring against him.
Soviet troops were sent to Vilnius in January 1991 after Lithuania proclaimed independence from the Soviet Union. 14 people died in the clashes that followed.
http://english.ruvr.ru/2011/07/27/53792921.html