The Klaipeda Municipality tem planning the new crisis centre for women:
Ms. Audronė Liesytė, Head of Social Care Division
Ms. Elona Jurkevičienė, Head of Project Division
Ms. Aušra Tautkevičiūtė, Chief Specialist of Construction and Infrastructure Development Division
Mr. Tomas Barsevičius, Chief Specialist of Project Management Subdivision, Project Division
One of the biggest problems that Lithuania faces today is violence against women. Statistics claims that 63% of all women in Lithuania suffered from physical and/or psychological violence, whereas world average is 33%. In my interview with Klaipeda's Mayor Vytautas Grubliauskas earlier this week, I asked him if he thought Klaipeda could be a good example for other Lithuanian municipalities with regards to this very severe problem.
The mayor answered:
"Thanks to funds from Espersen Foundation, Klaipėda becomes a pioneer in this social blind spot. What we will see with rise of this building, however, is not a problem solution, only a shelter for severe societal problems. Although the shelter is extremely needed, Klaipėda will never be an example if violence will persist. Therefore I see immediate need for social evolution towards extermination of violence against women in general. For that we need awareness campaigns and education from early school age. Only with such package of measures I will be able to call Klaipėda as good example for other municipalities."
Lithuania's port city has for years had a women's shelter for women, but has now taken a huge step forward and is already well underway with the planning of what is probably going to be Lithuania's most modern and advanced crisis centre for women. The new centre is expected ready by 2012.
The municipality has been joined by EU and a Danish fund, the Espersen Foundation, to finance the project, and everything is now arranged for Klaipeda to have a women's shelter most other Lithuanian municipalities should study further as soon as possible. For the problem of violence against women is an extremely serious, nationwide problem that needs immediate attention from authorities, communities and the very families throughout every corner of the country!
Let me also say that I consider it admirable that the Espersen Foundation so actively contributes financially and otherwise in a community where the foundation's commercial arm, the Espersen Fish Factory, during the last few years has built up a state of the art fish processing company that provides jobs to a large number of production workers and several external companies within fishery, transportation and more. Klaipeda has for years benefited from this company's investments, and the company is now in an exemplary way also showing how commercial businesses can demonstrate social responsibility and involvement in the communities in which they are established and located.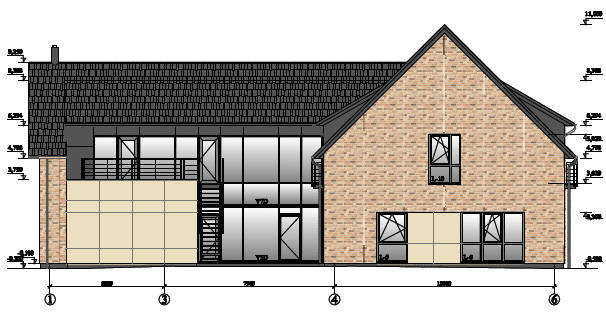 FAÇADE OF THE PLANNED CRISIS CENTRE BUILDING
Architects: NEOFORMA, Klaipeda.
Aage Myhre
aage.myhre@VilNews.com