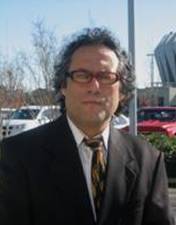 Enrique Ferrer Corredor
Today we are pleased to introduce you to  Professor Enrique Ferrer Corredor, a Colombo-Venezuelan who loves Lithuania:
Professor Ferrer Corredor is an author and professor with a broad academic background. He divides his time between literature, economics, political science and his love for soccer. He is co-founder of Común Presencia (literary Magazine) and, founder and director of Papeles (Papers); he belonged to many writers' workshops in Colombia and Venezuela. 
Ash of Moon, his first collection of poems, was published in 1994 and had two editions in 1998. In 2006, he published his book El público en escena (short stories). Also he has published many articles of literature and political science in international magazines. Today he is part of Word4word, a group of writers in Newport News, Virginia (USA).
Sand Time
for Inga Repšytė
Cling
to sand that goes down
between busy lips,
demonstrating
that time is measured
by the absent body
Flight
Girl, you have wasted your time with the rules;
prisons have closed their doors
and you stayed in your flight.
Roses are not amulets for the night,
cells are inhabited by Sade
where the guards come to the feast of freedom.
Geographies
My recent geography of your body speaks
Of words trapped in your skin
Of ruins and old residents
But it ignores
The music of your nights with no fate
Your ignorance against any defeat
Your fear of snakes
And a moon that sails in your belly.
Testament
My port
Is a wave
And ghosts
Eat at my table.
And if your eyes shut down
On the edge of the blade
Open my house's door
And cling to the abyss.  
Instant
Two bodies
Plough the night
A flame
Hushes the fire.