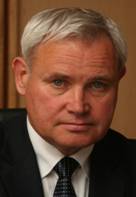 Mayor of Klaipeda,
Vytautas Grubliauskas
What can you tell our readers about today's situation and the outlooks for the economy of Klaipeda?
Recession in Klaipeda lasted much shorter than in other cities. Thus it's still present in real estate sector, we bounced quickly back in other sectors. We kept quite stable consumer demand due to Klaipeda's large workforce share (appr. 40%) employed in harbour related activities that hardly experienced recession.
Positive economical outlook for local companies continued city economy running in difficult times. For future, I see much unused capacity in harbour and free economical zone activities that are already best performers in whole Baltics. On the other hand I watch with uncertainty demographic decline as most difficult macroeconomic challenge for municipal budget and consumer demand. We have to cope with a shrinking city scenario.