Rimgaudas P. Vidziunas
Mesa, Arizona, USA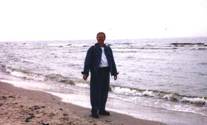 The photo is of the author, Rimgaudas P. Vidziunas, walking on the shores of the Baltic Sea. He was inspired to write poetry upon his first visit to Lithuanian in 1999
Today we are pleased to introduce you to Rimgaudas P. Vidziunas who came to the USA in 1949. Visited Lithuania 1999, 2002. BA History, University of Miami, Florida January 1970. Photographer for over 35 years.
Follow him on Facebook: "Photography by Rimgaudas". Currently residing Mesa, Arizona, USA.
Email: rvidziunas@yahoo.com
                                  * * *
BALTIC BEACH DREAMS
I thought I heard you dream of Baltic beaches.
Walking in the evening sunset toward the cottage
That lies among the dunes.
The storm battered rain on our face, watching the storm end. 
The return of the seagulls
Indicates the ending of the storm
And fly to greet us
As if saying all is well.