Underground:
A Novel by Antanas Sileika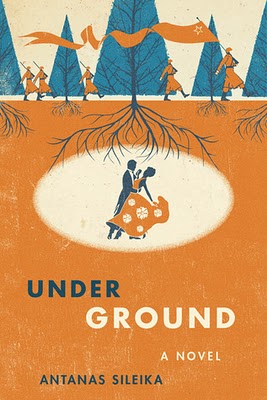 Book review by DONNA BAILEY NURSE
in Canadian 'The Globe & Mail' http://www.theglobeandmail.com
"How are we going to survive unless we turn our hearts to stone?" a comrade warns the hero of Antanas Sileika's 
Underground. The question is an example of the elegant thinking that characterizes this rare and compelling chronicle of Lithuanian partisans and their violent struggle against Soviet occupation. Sileika's third novel follows the military career of Lukas Petronis, whose bravery and commitment to the cause elevate him to legendary status within the resistance movement. Despite his heroism, Lukas keeps his heart from growing hard by falling in love with Elena, the sister of a partisan.
Underground, by Antanas Sileika, Thomas Allen, 305 pages, $24.95 Buy from: Amazon.ca Chapters Indigo
The story begins in 1944 with the Germans in retreat from Lithuania. With their departure, the dream of an education seems viable again, and Lukas and his younger brother, Vincentas, abandon the family farm on the edge of the Jewish Pine Forest for university in the city. Lukas studies literature while his brother enrolls at the nearby seminary. The buildings are dilapidated and the resources limited, but Lukas exhilarates in learning and the lively company of the students.
Unfortunately, the good times don't last. The Russians have returned; and for the third time in a half-dozen years, Lithuania finds itself an occupied nation. Cattle cars rumble across the tracks – did they ever really stop? – packed with men, women and children exiled to Siberia. The secret police hound those citizens who remain; torture is commonplace, as is execution. Farmers must hand over to the government impossible portions of their modest crops.
Fed up with feeling powerless, Lukas and Vincentas head into the forest to join the freedom fighters. Whereas Vincentas's spiritual, otherworldly nature could never adapt to harsh partisan life, Lukas takes to it easily. He turns out to be fearless, an excellent shot. In addition, his composition skills are put to good use. He is given the job of gathering international news and writing articles for the resistance papers.
From its opening lines, the novel strikes a haunting note. Some of this has to do with a ghostly presence: the hundreds of thousands dead, more than half of them Jews; a vast Jewish nation disappeared. The strange winter woodland setting also contributes to the tone. A formal military force, 30,000 strong, is scattered throughout the forests where the Russians fear to tread. Fighters reside in lean-tos or deep bunkers. Larger units emerge to engage the army in significant battles, while smaller groups ambush government officials and target organizations. It is in the woods that Lukas meets Elena, the sister of a comrade. The two eventually marry, but only after they massacre several Russian bureaucrats at their engagement party. They become folk heroes.
Sileika evokes the couple's relationship with tender realism. His depiction of Elena, one of only a few female characters, also impresses. While she possesses curly brown hair and soulful eyes, it is her inner loveliness and determined nature that attract both Lukas and the reader.
We encounter Elena mostly through conversation, and through Lukas's eyes. It would be nice to know her a little better, to get inside her head. Though dialogue in the novel is generally strong, spoken word never completely conveys a character's thoughts and motivations.
Sileika's portrayal of Vincentas suffers from a similar weakness: We see him mostly from Lukas's perspective. That's too bad, as Vincentas, who dreams of becoming a priest, represents a major theme in the novel: He embodies the deep-rooted presence of religion in the culture. Government disapproval means priests live in fear for their lives. Nevertheless, ordinary people cling to their prayer books, refer to their beliefs and continue to embrace the sacraments.
The debate surrounding partisan tactics derives from the Bible. "Harden not your hearts," reads Hebrews 3:8. In one dark, ironic passage, Vincentas encourages a group of students to love one another: "How can you love the country if you don't love the people in it?" He recoils from killing the enemy, preferring the path of passive resistance.
After a deadly grenade attack, a grief-stricken Lukas is sent away to the West to heal and to drum up support for the movement. The West is an important character in the story. The partisans expect anti-communist America to save them. In Stockholm, Lukas is infuriated by the unruffled neutrality of the Swedes. Blatant British self-interest equally aggrieves him. In Paris, his political sentiments seem out of fashion. Lukas cannot understand why Western governments worry about placating Stalin when Lithuanian people are being brutalized. Déjà vu all over again.
This story picks up speed as it goes along, hurtling into the future and an unanticipated conclusion. On occasion the prose is a little wooden, but often, too, it is full of poetry and wisdom gorgeously expressed. In addition, Sileika elucidates the socio-political context of occupied Lithuania with astounding ease. He gives us a brilliant, highly accessible military history, one that remains largely repressed – underground – in the East and in the West.
Donna Bailey Nurse is a Toronto editor and writer and a frequent contributor to Globe Books.
Here are some review highlights:
How are we going to survive unless we turn our hearts to stone?" a comrade warns the hero of Antanas Sileika's Underground. The question is an example of the elegant thinking that characterizes this rare and compelling chronicle … From its opening lines, the novel strikes a haunting note … This story picks up speed as it goes along, hurtling into the future and an unanticipated conclusion.
- Toronto Globe and Mail
Sileika's novel is a gripping tale, and the fate of Lukas – how long his luck runs – engages the reader to the last page.
- National Post
Sileika writes with a spare style that suits the action sequences as well as the rare moments of tenderness or humour. Entertaining and sometimes shocking, the book describes a little-known period of European history that has been kept underground far too long.
- Montreal Gazette
Sileika vividly brings this little-known (to us) and very sad chapter of European history alive…..
- Toronto Star
… the drama is exciting, haunting and instructional in turn. It opens with an explosive scene of startling violence, moves through episodes of mounting tension and dread, and concludes in a kind of lyricism.
- Edmonton Journal