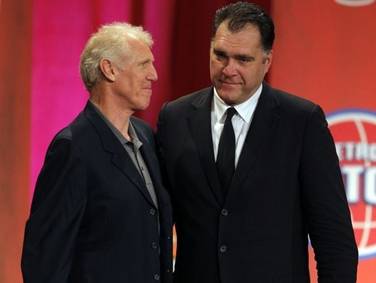 Arvydas Sabonis with ex Portland Trailblazers team
mate Bill Walton during the induction ceremonies
Photo: Reuters.
For a country that proclaims their second Religion to be Basketball, you can imagine the excitement that is growing as EuroBasket 2011 draws near. The tournament that crowns the Basketball Champions of Europe always creates great emotion in the hearts of Lithuanians but this year there is even more fuel to add to the passionate fire because the championship tournament is being held in Lithuania.
Everyone is counting the days, hours and minutes to 31 August at 9 PM EET when Lithuania plays their first game. Everywhere you look people are wearing Lithuanian Basketball T-shirts, cars are decorated in the National colors and banners and posters are everywhere.
Now what could take place that would add even more to the basketball fever that has infected everyone?
You induct into the NBA's Hall of Fame the greatest basketball ever to come from Lithuania. Yes folks, Friday 12 August Arvydas Sabonis was inducted into the National Basketball Association's Hall of Fame in Springfield, Massachusetts.
Said by most to be the greatest "big man" to ever play the game, he is also considered to be one of the greatest centers to play the game and some even say that he was the greatest center in the world.
Watch his induction speech here:
This video is from the induction show. Some great insight to Sabonis' tremendous abilities and also some great action videos that displays Arvydas' mindboggling skills. Fellow team mate and NBA Hall of Fame member Bill Walton refers to Arvydas Sabonis as a 7 foot 3 inch Larry Bird – This is quite a compliment.