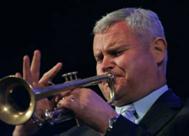 The Mayor has background as a professional jazz trumpet player and singer.
MY QUESTION:
Finally, please let our huge, international VilNews readership know what are your visions and plans for Klaipeda and the Baltic Sea region over the years to come?
THE MAYOR'S ANSWER:
I will strive for Klaipėda to become an Eastern European avant-garde city in life quality and culture. For many years we had wrong priorities. Now it is time for pure living and jazzy souls.