CONSUL GREETINGS
From Krister Castren, Honorary Consul of Finland in Klaipeda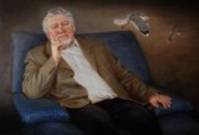 Krister Castren, painted by Žygimantas Augustinas.
http://www.augustinas.lt/ind_ang.html
The roots of the relationship between Finland and the Klaipeda region are hundreds of years old. The Baltic Sea, with its naval and fishery activities have been of mutual interest in the old ages and will probably be in the future as well. Even during the dark Soviet times, sometimes Finnish cargo was unloaded at the port of Klaipeda.
Especially Aland Island, well known for its long maritime history, still being a big factor in the branch, had an exchange of captains and other crew with colleagues in Klaipeda. Part of that history will be found in the National Sea Museum in Klaipeda.
One of the symbols of the City is the sailing ship now standing with visible commercial sails in the river Dane. The origin of the ship is interesting. It was built in Turku, Finland after WW2 as part of the compensation for war damages to Soviet Union. It had dozens of sister ships of which only three are left, Klaipeda's "Meridianas" being the best, but not in very good shape. Its history is well known having last served as a Soviet sailors' training ship in Kaliningrad from where it was taken to Klaipeda and put in the river with the idea of preventing it from sinking. Although it is now in private hands, we hope that this old lady still has got another 60 years in her to decorate Klaipeda's old town.
Finnish business activities in the Klaipeda region are not very remarkable. The most visible Finnish trademarks are, as everywhere in Lithuania, Neste Oil and of course the giant Nokia. The other Finnish giant, Fortum, is a minority share-holder of Klaipeda Energija and plans to make some huge investments in the energy production field in the near future. Kuusakoski, a recycler of metal waste, has its Lithuanian head office in Klaipeda. Another well known company holding its office here is Lemminkainen, having been working for years to improve the quality of Lithuanian roads.
But, Klaipeda is still on the waiting list to achieve Finnish investments and the reasons for that are partly pretty well known. The first question is how to reach the city in a reasonable amount of time. This means in modern business terms, one day. There are no flexible flight connections to the Palanga airport from Finland. The closest place to land is Kaunas, but first you must manage to drive to Tampere, 200 kilometers away from Helsinki and then there is another 220 km drive to Klaipeda. Or try your chances flying to Vilnius with a 300 kilometers drive one way to Klaipeda. Not so comfortable. It doesn't matter how attractive the local objects are if you cannot check your investments in a reasonable time - Put your money elsewhere!