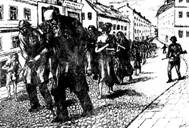 Jews being marched from their ghetto in the centre of Vilnius (today's Old Town) to the Paneriai (Ponary) forest outside the city for execution, 1942/1943. Paneriai is an area of wooded hills, where in 1941-1944 60,000 to 70,000 Jews from Vilnius were executed.
- Drawing by Fajwel Segal
What happened to the Jews in Lithuania during World War II is a matter of grim record. Of the 250.000 Jews in 1939, only between 12.500 and 17.500 survived; of those, only about 200 remain today.
It has been estimated that of the 265.000 Jews living in Lithuania in June 1941, 254.000 or 95% were murdered during the German occupation. No other Jewish community in Nazi-occupied Europe was so comprehensively destroyed.
The Red Army occupied Vilnius on 19 September 1939. Lithuania and the Soviet Union signed a treaty of mutual aid, in accordance with which Vilnius and the Vilnius region were returned to Lithuania. In 1940, Vilnius became the capital of Soviet Lithuania.
Vilnius remained under Soviet control until 26 June 1941, when the city fell to the invading German Army (Wehrmacht). On 8 July 1941 an order was issued stating that all Jews must wear a special patch on their back; subsequently they were ordered to wear the patch on their chest. In addition Jews were forbidden to walk along the main streets of the city, and shops were ordered to sell them food in limited amounts. Jewish people were fired from their jobs, deprived of the means of personal transportation and radios, forbidden to use public transport, and prohibited from public places. Jews were arrested on the streets, at their work places, and in their houses.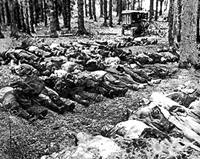 Paneriai forest near Vilnius.
Jewish victims of execution before the mass burial, 1943.