| | |
| --- | --- |
| | 23 September is the National Memorial Day for the genocide victims of the Lithuanian Jews |

Because of the Jewish Holocaust during the Second World War Lithuania lost over 90 per cent of the Jewish community. In 1994, 23 September was declared National Memorial Day for the Genocide Victims of the Lithuanian Jews to commemorate the liquidation of the Vilnius Ghetto on that day in 1943. Many events are held to commemorate 23 September in different institutions of Lithuania every year.
I just want respect
for murdered Jews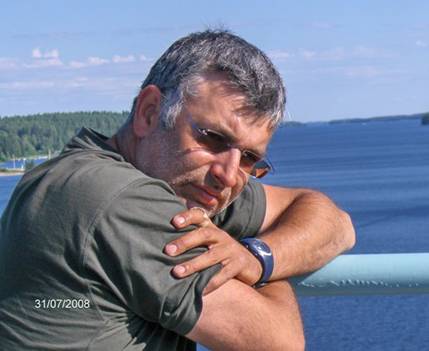 Sergejus Kanovičius
OPINION: By Sergejus Kanovičius
Very recently I looked at the Delfi.lt webpage and could barely hold back the tears watching one of the episodes of Mission Siberia (http://tv.delfi.lt/video/ST5zL0DJ) which aired this year, an interview with Lithuanians who have lived [in Siberia] eight decades now, unable to speak Lithuanian and explaining why they who have lived their entire lives in Siberia see no sense nor opportunity to return to Lithuania…I was saddened because of the tragedy of their lives, but at the same time I was glad that they are alive and healthy.
I remember how one of my best friends, the poet Liudvikas Jakimavicius, used to tell me during long evenings at his farm about the oppressions his family experienced, how his parents shared one cattle wagon with a Jewish boy named Harry, whom everyone called Garik. How Joske who spent the years of exile together with Liudvikas's family, always used to send packages from far-off Israel with instant coffee and other items unavailable in the dying Soviet empire.
I told Liudvikas about my almost completely butchered family. It was painful for both of us, we empathized with one another and tried to understand the other's pain and shared our grief until his pain and heartbreak became my pain, and the suffering he and his family experienced became mine as well.