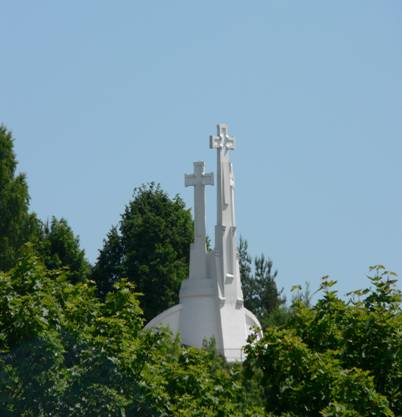 Photo: Wikipedia.org.
By KR Slade
The hill behind the castle tower in the Old Town of the city of Vilnius--the capital of Lithuania, is called 'The Hill of Three Crosses'. So, how many crosses are on the Hill of Three Crosses ? Six ! Or nine, if you count shadows . . .
In the 14th century, according to legend, pagans killed seven Franciscan monks on this hill. Three monks were hung on the hill, and four were thrown in the river. Three wooden crosses were erected on this hilltop in the 17th century. Thus, the hill got its name.
In 1916, before the first Republic of Lithuania (1918-1939), the wooden crosses were replaced with an ensemble of three, more monumental, reinforced-concrete crosses. They were hollow, about two feet square and about three inches thick. The cross-arms span about eight feet; the height is about eighteen feet. The three-dimensional relief faces reflect light and shadow.
In 1950, the Soviets blew-up and buried the three concrete crosses, which are now placed on the ground just below the final summit climb of the hill. The old, raw concrete crosses are in-tact, but broken at their bases that expose their steel reinforcement rods . The twisted steel rods evidence an amount of force used in their attempted ruin. Amazingly, they were not completely destroyed. They remain now triumphant, on the ground, the paint long-since worn away by weather, neatly displayed on a grassy presentation, about fifty feet from the summit. The three recumbent crosses, still working in their retirement, make a resurrected statement of faith.
The newer three crosses, which since 1989 crown the hilltop vista, were constructed according to the previous general plans. But, there are visible differences in the frontal surfaces of the older and newer structures. In 1991, Soviets here became extinct.
I had mentioned to a local friend that I wanted to go to the Hill of the Three Crosses. He replied, "Why? It's a hill. With three crosses. You can see the crosses from everywhere in the city."
No. The Hill of Three Crosses has six crosses. Yes, you can see the three crosses from everywhere in the Old Town. But it's the other three crosses--the one's resting on the ground--the old retired ones, which vividly tell the whole story.