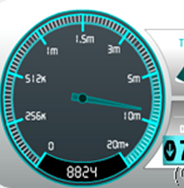 Lithuania ranks fourth among the world's nations in terms of the Internet speed trailing only to South Korea, Romania and Bulgaria, Pando Networks, a US-based communication technology firm, said.
South Korea leads the list with the average download speed of 2,202 kilobytes per second, followed by Romania (1,909 Kbps) and Bulgaria (1,611 Kbps). Lithuania stood fourth with a 1,462 Kbps average download speed, the study by Pando Networks revealed.
The analysis was based on 27 million downloads by 20 million computers in 224 countries from January through June 2011.
The top ten also include Latvia (1,377 Kbps), Japan (1,364 Kbps), Sweden (1,234 Kbps), Ukraine (1,190 Kbps), Denmark (1,020 Kbps) and Hong Kong (922 Kbps). The world Internet speed average stood at 580 Kbps during the study.