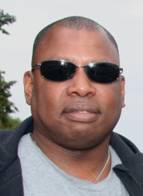 Clifford Lont, Chairman of Klaipeda International Business Club, has moved the long way from Suriname in South America to a much colder climate here at the Lithuanian coast.
At the end of my interview with Clifford Lont, I said to him:
"Clifford, I have two remaining questions for you this Sunday afternoon here at the river edge in Klaipeda."
Question number 1: "Do you have something to say to all the young people who are about to leave Lithuania in an emigration flow that seems to have no end?"
Question number 2: "Have you experienced racism here in Lithuania, and what is in case your normal reaction?"
It should be noted that Clifford does not seem to be much hampered by his dark skin colour, even here where so few stand just as much out as he does. He flirts lightly with the waitress in the outdoor restaurant where we sit. He smiles and nods to people passing by. He has obviously become a familiar face to many over the years he has lived here. Then he answers my questions:
To question 1: "Do not run away. Because by doing that you contribute to emptying your home country for dynamic young people and good workers. Stay here. Those who dare to stay behind will be the winners in the end!"
To question 2: "Well, let me first say that many do not know that there are black people also in South America. And to those with racist tendencies I would simply say: Get rid of your taboos. We are all just human beings..."