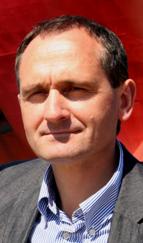 Arnold Šileika, General Director of Klaipeda's Western Shipyard
Arnold Šileika has been working in Klaipeda's Western Shipyard since 1989, first as foreman, then as the company's General Director for the last ten years.
The company has now 2.000 employees, plus 1.000 more working on the territory for the shipyard on contract basis, totally 3.000 persons.
"You have, in other words, seen the whole transition from having been Soviet-ruled to becoming a Western company," I state.
And the director responds, still just as open and straight forward, that the biggest challenge has been to get workers to change their mentality from eastern to western ways of thinking.
"But now, today, the biggest challenge is actually to find people who want to work here," he says. "This despite the fact that we pay almost twice as high wages as what the labour market in Lithuania in general offers. We actually have had to start to bring in workers from Bulgaria and Romania to fulfill our obligations," he says.