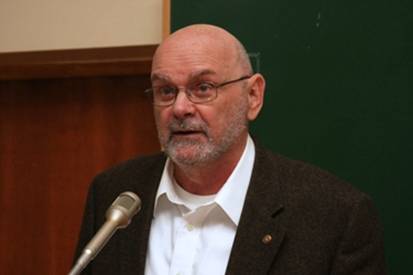 Dr. Saulius Suziedelis.
Scholar of Lithuania's Holocaust history.
Photo: www.komisija.lt/lt/naujiena.php?id=1301995164
By Ellen Cassedy
"The only way for Lithuanians to lighten the difficult history of 1941 is to embrace it."
The writer of these words, Dr. Saulius Suziedelis of Millersville, Pennsylvania, USA, will be honored in Vilnius on November 18, 2011, by the Lithuanian Ministry of Education and Science.
Also receiving awards will be Dr. Vytautas Cernius, a longtime professor of education at Temple University in Philadelphia, Pennsylvania, and Dr. Arvydas Kliore, a space scientist with NASA. The prizes for intellectual achievement are awarded annually to Lithuanians living abroad.