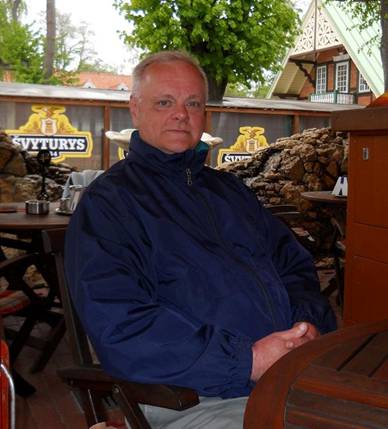 Vin Karnila, VilNews Associate Editor and owner of the e-shop
company 'Baltic Value' will be the person who will guide you
through the products and procedures we now offer.
Dear VilNews readers,
I really very much appreciate the request from VilNews to coordinate the sale of  Lithuanian products to our E-magazine's readers around the world. 
I moved from Boston, USA, here to my father's homeland in 2004. What started as Christmas gifts of some personal care products made here in Lithuania sent to family and friends developed into an ever growing number of Emails every week from people asking if I could get these and other items for them. Eventually the amount of requests became so overwhelming that we decided to make things easier and organized for everyone so in 2009 we opened our services to the public and "Baltic Value" was born.
The web site allows people to easily look through the items we offer, order them and then pay with their credit card – Anywhere they are in the world!
It is through my E-Shop "Baltic Value" that VilNews now will offer its readers products that we think will connect people with an affinity for  Lithuania.
To visit the VilNews E-Shop simply go to www.balticvalue.com. Browse through our many departments and when you see something you like just put it in your "Shopping cart" and when you are finished shopping just go to "Checkout". It's a simple as that.
We ship worldwide so you can have your items delivered to your home or place of business and you can even have your items sent to another person as a gift.
If you have any questions about any of our products, shopping in our E-Shop, shipping or the payment process please do not hesitate to contact me at info@balticvalue.com
If there is something you would like that you do not see in our E-Shop please contact us and tell us what you are looking for. Since we are located in Lithuania and since we also have a network of contacts all throughout the country we are very successful in filling special requests for items.
Sincerely Yours,
Vin Karnila


HERE IS A SAMPLING OF OUR PRODUCT CATERGORIES:
1.

MUSIC

From some of the Best and Most Popular Traditional Lithuanian Folk Music Groups. Bring the Rich Heritage of Lithuanian Folk Music into your home and car. 

We put a great deal of thought into what CD's we should offer. Our decision was that we should offer CD's from the groups that are the best at researching the history and traditions of traditional Lithuanian folk music so that their performances give the listener the true historic and traditional sounds. We also wanted to include the groups that are the most popular in Lithuania. As an added treat we included a section that represents what Lithuanian Village Music is all about.




2.
BOOKS

It took some time but we have finally sorted through many of the English language books that are available here in Lithuania. What we came up with are the books that we recommend when one of our long time clients asks for a book on a certain topic or for a specific purpose. Included in this list are books that we often personally send as gifts.

What you will find here are the books that we feel best represent Lithuanian history, culture and traditions. What was also given consideration was who the author or publisher was.

We also have an extensive selection of books published by the Genocide and Resistance Research Center of Lithuania

3.

MAPS OF LITHUANIA AND THE BALTICS

Here you will find one of the most extensive offerings of Lithuanian maps and Road Atlases anywhere on the Internet.

We have assembled for you:

MAPS of All the REGIONS of Lithuania
MAPS of the DISTRICTS around the major Cities
CITY MAPS of Lithuania's primary cities
ROAD MAPS of Lithuania, Latvia and Estonia
ROAD ATLASES of Lithuania, Latvia and Estonia
Vilnius CITY ATLAS
"ONE DAY IN" Tour Guide Panorama Maps





4.
LITHUANIAN LINEN

The quality of the Linen produced in Lithuania is renowned worldwide.

We are very excited to be able to offer a wide assortment of Lithuanian Linen items such as

Luxurious Linen Bathrobes perfect for relaxing in any time of year

Elegant Table Linens perfect for casual lunches or formal dinning

What may possibly be the softest and thickest Linen Bath Towels you will ever have the pleasure of using

Linen sheets, duvets and pillow cases that will help give you comfortable and restful sleep no matter how cold or how hot the weather

5.
T-SHIRTS

The MESSAGE on the SHIRT SAYS IT ALL
Now let us tell you something about the shirt.
The Baltic Value KUGELIS T-Shirt is made
from high quality Pre-Shrunk ring-spun cotton.
The cotton was tested and certified by CENTEXBEL
to be of Oeko-Tex Standard 100.
It is Global Organic Textile Standard (GOTS) and
Fair-trade Certified Cotton
The printing is done by the SILK SCREEN process
NOT by heat transfer or iron on.

6.
FOOD AND MIXES

Bring the Tastes of the Baltic Culture into Your Home with these mixes and food products.

CEPELINAI MIX
Delicious and Hearty Potato Dumplings filled with Meat

PANCAKE / BLYNAI MIX
The variations are endless how you can serve these.

POTATO PANCAKE MIX / BULVIU BLYNAI
The Traditional Favorite

ZEMAICIU BLYNAI / ZEMAICIU POTATO PANCAKE MIX
From a Centuries Old Traditional Recipe

7.
ELECTRIC POTATO GRATER

Directly from Lithuania

Perfect for preparing all your favorite recipes that require grated potatoes.

This electric potato grater is made in Lithuania.
That is probably why it works so good. A Lithuanian company would understand how a machine must work to produce grated potato with exactly the right consistency to make your favorite foods.




Your home for quality products
and great value  

 

WE SHIP WORLWIDE


CLICK HERE TO GET STARTED WITH YOUR E-PURCHASE!