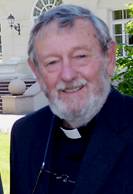 Dominican Father David O'Rourke, one of the two priest producers of "Red Terror on the Amber Coast." Father O'Rourke is director of The Tatra Project (www.tatraproject.org), which provides educational resources and media on life under the former Soviet Union.
I lived and worked on and off in Vilnius, from 2000 until about 2009.  Part of my work involved research in the film and photo archives that led to the documentary film, Red Terror on the Amber Coast.  I was the writer and producer.  I have only one point I want to make here, but I think it is important. 
From the  time that the Soviets first occupied the Baltics after the Molotov-Ribbentrop Pact until the fall of the Soviet system, essentially all the information about life in the Baltic Republics came from the occupying governments – Soviet and Nazi.  Occupiers have their own agenda.   Telling the truth about what they were doing in the countries they occupied was not one of them.   To the contrary, both the Soviets and the Nazis were expert in producing self-promoting propaganda.  So I believe it is both naïve and foolish to look to news and information reports produced by either of these regimes about the occupation years  as though they were reliable.  My own view is that relatively little concerning life during these years is known today outside these countries and their several diasporas.  And very little is known because historians in the West don't think that  the Baltics and their people are important enough to their own studies to worry about.   
David O'Rourke
California, USA.