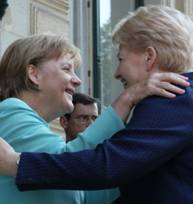 Angela Merkel and
Dalia Grybauskiate
Lithuania Thursday welcomed a last-ditch deal to shore up the currency bloc, saying the resolve finally showed by EU heavyweights should stop the debt crisis from spreading.
"We've witnessed much more resolve from major EU countries," Prime Minister Andrius Kubilius said in a radio interview.
"Now we see much more political effort to find solutions to problems that have not been solved for almost one and a half years," he added.
Leaders from the 17-nation eurozone meeting overnight in Brussels reached a deal early Thursday to fix their festering debt crisis, boosting a bailout fund to a trillion euros, pledging new money for Greece and pushing banks to take a 50-percent loss, or "haircut", on Greek debt.
They acted amid raging concerns that the crisis could spiral, with Italy in the spotlight.
Lithuania's President Dalia Grybauskaite -- who attended Wednesday's summit of all 27 EUnion members held before the eurozone talks -- said she expected the deal to provide a buffer.
"These decisions, if implemented swiftly, are very useful, as the problems will be stopped in southern Europe and will not spread north," Grybauskaite, the EU's former finance commissioner, told the Baltic News Service.
Lithuania aims to adopt the euro by 2014.