How I came to Lithuania 21 years ago (6 of 6)
Some private memories by Aage Myhre, VilNews Editor-in-Chief
aage.myhre@VilNews.com
1991: Oslo and Vilnius
become twin cities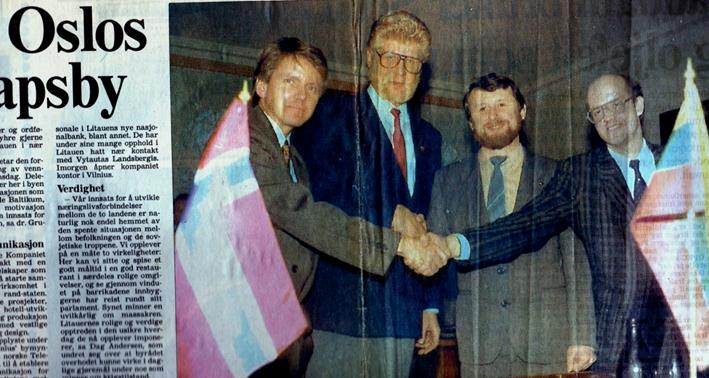 21 January 1991. Soviet military vehicles dominate the streets of Vilnius. Dag Andersen and the author conveys a letter from Oslo, signed by Mayor Michael Tetzschner. Oslo offers Vilnius to become its first friendship city in the West. The letter was enthusiastically received by the Vilnius Mayor Arunas Grumadas and Deputy Mayor Regimantas Ciupaila.
Facsimile: Aftenposten, Norway. 
 

Heavy tanks were used by the Soviet forces when they attacked the TV tower and the Parliament building in Vilnius on 13 January 1991 (left). They were met by a wall of unarmed people who refused to allow the intruders to again take control of their homeland. Inside the city they used armoured vehicles on rubber wheels (below). It was a bizarre, almost surreal experience to always be spotting, hearing the noise, feel the ground tremble when we were in meetings or trying to get a meal in one of the city's few restaurants. 

 

We often did our eating and drinking in Hotel Lietuva, in the so-called 'Black Bar', where only western, hard currency was accepted. This bar was the centre for international media those January days. Every night we heard stories about how television crews and journalists had experienced rather harsh confrontations with the Soviet military units.

 
 
 
 
We were two Norwegians working very much with Lithuanian affairs at this time, Dag Andersen and me. During our visit to Vilnius in January 1991, we brought with us a letter from the city council leader in Oslo, inviting the mayor of Vilnius to sign a sister city agreement. We handed the letter over to Mayor Arunas Grumadas on 21 January while Soviet troops were standing around in the streets and armoured vehicles roaring around us. 
The twin city agreement was signed a few months later, and Oslo became the first Western city to enter into such an agreement with Vilnius. I see it as an important symbol of friendship and solidarity at a difficult time for a country under tremendous pressure and terrible abuse from their neighbour to the east. 
During 1991 I came back to Lithuania several times. I saw more, understood more. The country began in earnest to fascinate me. I was also in Vilnius during the failed coup in Moscow in August 1991, again thrilling days. On the morning of 30 August 1991 I was probably the first person in modern times that got a legal visa directly to the nation of Lithuania, stamped into my Norwegian passport. 30 August 1991 was the day when the Lithuanian migration authorities finally could do so in accordance with international rules. The Soviet Union was finally a horror of the past. Also formally, Lithuania was once again a free and independent country. 
50 years of oppression was over!
ABOVE: During my first visit to Lithuania, in November 1990, I took this picture at Rotušes Square (Town Hall Square) in Vilnius. This was probably the very last picture ever made of the statue of Vincas Mickevičius-Kapsukas. Next morning he had been knocked down by local activists...

Vincas Mickevičius-Kapsukas was a communist leader, born 1880 in Būdviečiai, Vilkaviškis district, dead 1935 in Moscow. He was a political activist, fighting Tsar Russia, one of the founders and leaders of the Communist Party of Lithuania and the Lithuanian Soviet Socialist Republic (1918–1919).

After the WWII Soviet occupation of Lithuania, his student Antanas Sniečkus (see our article http://vilnews.com/?p=6598 ) propagated Mickevičius' personality cult. In his honour the city of Marijampolė was renamed Kapsukas (1956–1989) and Vilnius University (1955–1990) bore his name. Two large sculptures of Mickevičius were erected in Vilnius: one here, in front of the Vilnius Town Hall (1962) and another, depicting Mickevičius with Lenin, in Antakalnis (1979).

LEFT: You can today find the statue of Mickevičius-Kapsukas in the Grutas Park in Southern Lithuania. The park is the repository of old Soviet era statues and artefacts that were removed from public places when Soviet occupation of Lithuania ended.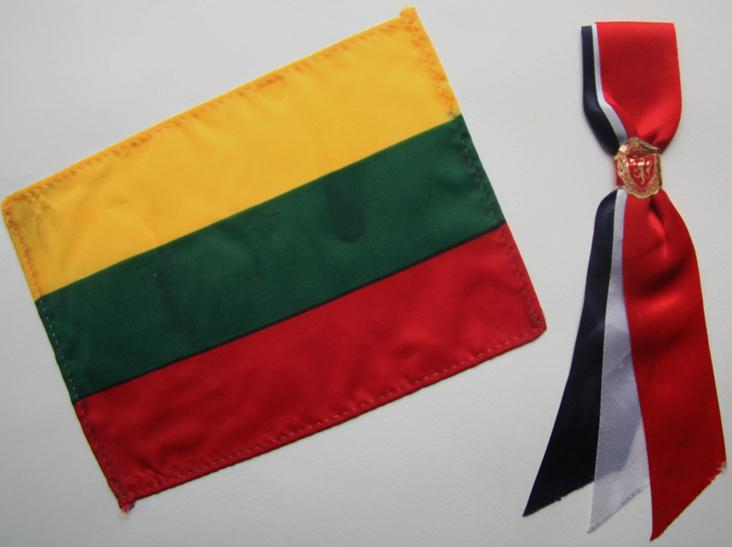 How I came to Lithuania 21 years ago (6 of 6)
Some private memories by Aage Myhre, VilNews Editor-in-Chief
aage.myhre@VilNews.com