Lithuania's remarkable recovery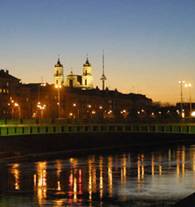 VILNIUS
Photo: European Commission
BY ANDERS ÅSLUND
BRUSSELS - This year, Lithuania is one of the fastest growing economies in Europe with an annualized growth rate of 6.6 percent during the first half of the year. This high growth is driven by an exports surge of no less than 38 percent.
This is an incredible achievement after a vicious financial crisis. Remember that Lithuania's GDP slumped by 14.7 percent in 2009. The explanation is rigorous government policy. Lithuania's attainment is often ignored or belittled because its neighbors Estonia and Latvia have carried out similar miracles, but they are all true heroes, and Lithuania's cure looks remarkable also among this tough competition.
As the bankruptcy of the American investment bank Lehman Brothers in September 2008 caused a global liquidity freeze for half a year, the countries that were hit the hardest were small, open countries without guaranteed access to swap credits from major central banks. In other words, the Baltic countries.
Read more:
http://euobserver.com/7/114419