How I came to Lithuania 21 years ago (3 of 6)
Some private memories by Aage Myhre, VilNews Editor-in-Chief
aage.myhre@VilNews.com
Nov 1990: Oil, a girl and
a satellite system


The next day another Norwegian, from STATOIL, arrives in Vilnius. Last summer the company gave financial support to our works for Lithuania. Now we have invited them to have a look at opportunities in the Baltics. 
The two other Norwegians travel 300 kilometres northwest of Lithuania the following day, to Mazeikiai Nafta, the country's oil refinery. They come back late that night. With a new business idea: to extract oil from the refinery site. They say that they have waded in black mud, full of oil from numerous leaks from pipes and tanks. They are both shocked at what they have experienced. Soviet Union in a nutshell.
My task, when my friends are wading in oil, is to meet with Lithuania's communications minister, Kostas Birulis (who strangely is fluent in English). 
The reason is that Landsbergis, during his visit to Oslo three months earlier, asked us if it was possible to get a gift from Norway, a satellite antenna / telephone system that could be installed in the Lithuanian parliament. He was afraid that the Soviets could again try to take control of Lithuania and cut the normal telephone connections. 
Our task after his visit to Oslo was to try to persuade Norwegian politicians and our Norwegian telecom to provide and install such a gift in Lithuania. Telecom's export director was my great supporter of this. He managed to convince Telecom's CEO to go for the unusual project. A leading Norwegian attorney, Leon Bodd, who later became the General Consul of Lithuania in Norway, was also of great help.
Communications Minister Birulis accepts the agreement which I put before him this November day in 1990. In 1991, all details about the financing and installation of the system were settled in Norway and in autumn it was all completed. A huge satellite dish with 'Telecom' logo adorned the roof of parliament for many years to come. A prominent symbol of solidarity and bilateral thinking.

Telecom rejects later an offer to become Lithuania's first mobile phone operator. They believe the market is too small. How wrong can one be? STATOIL took the market more seriously and established what became Baltic's leading chain of petrol stations. 
I asked her for a dance - now we have danced for 20 years
My first stay in Lithuania lasts four days. The last evening before leaving, after first having had a refreshing walk in the great Vingis park right by the hotel, we, the three Norwegians, are eating dinner in the Hotel Draugyste's restaurant. 
Then she enters, a beautiful young girl together with five men. This is a challenge a recently divorced Norwegian like me cannot resist. I offer her to dance with me.  She accepts and the restaurant orchestra plays beautifully. He who claims to be her boyfriend and the four others do not look happy. 
She lets me know her name, Egle Bakaityte. She was born and raised in Vilnius but now works in Amsterdam. She is back home in Vilnius only to renew her visa. And so ends the third and last day of my very first visit to Lithuania. It is the 22nd of November 1990. 
I go back to Lithuania two to three weeks later. Now with a representative of the Norwegian 'fashion industry'. 
Famous for standing behind well-known brands in this sector. I meet Egle also during this visit. A few days go by. We travel with our new guests to the spa town of Druskininkai in southern Lithuania. A romance seems to be brewing. 
Egle and I keep in touch when I'm back in Norway again. New Year's Day 1991 she calls me at five o'clock in the morning. I feel uneasy, wondering if something is wrong. Calling this early is not exactly normal. But no, nothing wrong. Only that she had ordered the call the day before and only now being put through ... The Soviet phone system simply works like that... One has to call the 'central', and then it's up to them when they will try to connect you to the one you want to talk to. If one rings a western country, this may take up to a day. The Norwegian satellite facility is not yet installed.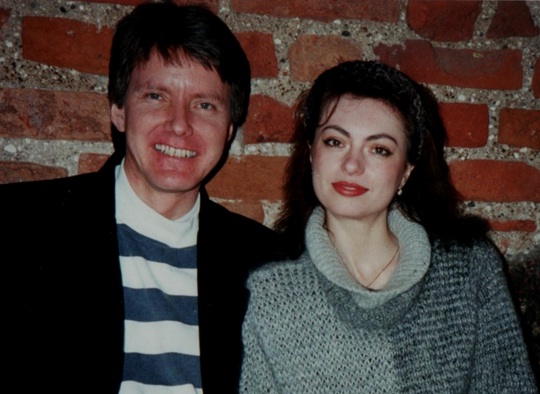 I meet Egle the third day of my very first visit to Lithuania, in November 1990. She 25, I 37.