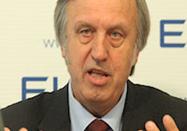 BY THE BOOK: Povilas Gylys isn't worried by a Russia that tries to bend the rules, saying that the WTO needs to stick to its principles.
KLAIPEDA - While Lithuania was cozying itself up to Russia's pending membership in the World Trade Organization (WTO), Russia's apparent other pursuit - establishing the Eurasian Union, which is said to be the brainchild of incumbent PM Vladimir Putin - has taken it aback, making high echelon politicians newly speculative about Russia's true goals.
"The post-Soviet Eurasian Union is an alternative and contra-argument to the European Union. Furthermore, it is a hurdle for EU expansion to the East. If Russia succeeds, the Eurasian Union will be just another variety of the Soviet Union. I see Russia's drive for WTO membership and establishment of the Eurasian Union as deliberately entwined. As far as the pro-Russia Eurasian's possibilities to use WTO membership as a political weapon are concerned, I would rather withhold from expressing my opinion. Let the boss [it remains unclear whether Landsbergis referred here to Lithuanian President Grybauskaite] figure it out," the patriarch of Lithuania's modern history, Vytautas Landsbergis, said to The Baltic Times.
Read more: http://www.baltictimes.com/news/articles/30050/