"Even today the Russians deny the fact that they occupied Lithuania.
So, the Lithuanians went to Siberia on their own initiative and shot themselves there"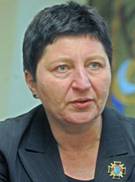 Dalia Kuodyte.
The former head of the Center for the Study of Genocide and Resistance in Lithuania, deputy of the Lithuanian Seimas Dalia KUDYTE who attended the conference "The Lithuanian Experience in Overcoming the Consequences of the Totalitarianism" in Kyiv (organized by the Center for the Study of the Liberation Movement with the assistance of the Lithuanian embassy in Ukraine) told Den about the importance of a spiritual leader for a country and about the ways to return the national history.
"WE HAVE LAID THE FOUNDATION FOR THE NEW LITHUANIAN MENTALITY. WE CANNOT COME BACK TO THE SOVIET PAST"