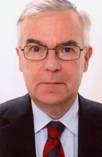 Ambassador Olivier Poupard was stationed at the French Embassy in Lithuania in the early 2000s.
After my stay in Lithuania, I have been reading with great interest your publication VilNews in Oslo then in Paris and now, since the beginning of October 2011, in Asuncion (Paraguay) where I am posted as ambassador.
Congratulations for the quality of your work.
Sincerely yours,
Olivier POUPARD
Embajador de Francia en Paraguay
ASUNCION
www.ambafrance-py.org