Lithuania: not as bright as it seems
January 30, 2012 
by Jonathan Wheatley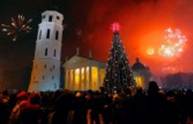 The mood turned sour again on European markets on Monday, as fresh worries about Greece rattled investors' nerves. But that didn't stop Lithuania getting a one-year bond auction away at a pretty impressive yield, on the day the country said its economy grew by a healthy 4.3 per cent last year.
Nevertheless, a glance behind the headline figures suggests that even where things look cheerful, investors should be cautious.
Lithuania sold 70m litas ($26.6m) of one-year debt with a yield of 2.74 per cent, Reuters reported, down from a yield of 3.876 per cent on 50m litas of debt maturing in August 2013 sold at the beginning of January. Average yields on Lithuanian one-year debt have fallen from more than 4 per cent at the end of November to 2.71 per cent today.
Lithuania and the other Baltic states, says Neil Shearing at Capital Economics, "have been the poster child for austerity in the face of crisis, pursuing internal devaluation and implementing big budget cuts despite huge falls in output."