Lithuanian camps in
postwar Germany issued
their own money!

Frank Passic, Michigan, USA.
Dear readers,
We are delighted and honored that Mr. Frank Passic has graciously offered to share with us his vast knowledge of Lithuanian numismatics. In this first article he provides us with a very interesting look into how Lithuanians living in Displaced Persons camps, following World War II, dealt with the situation of currency to help them survive in their daily lives.
Frank Passic of Albion, Michigan has collected, researched, and written about Lithuanian numismatics for many years. His educational displays of Lithuanian money have won numerous awards at state and national coin shows in the United States. Of Lithuanian heritage, his maternal grandparents emigrated from Lithuania to America just prior to World War I. Frank may be contacted at: albionfp@hotmail.com
We know you will enjoy this first article and Mr. Passic has agreed to share with us many more of his writings so we definitely have a lot to look forward to – Ačiū labai Frank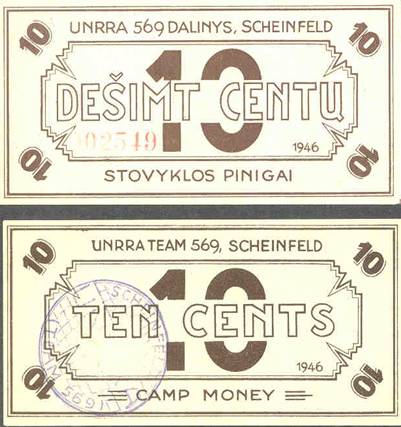 Money from the Scheinfeld Displaced Person Camp.
Bavaria, Germany, 1946.