Dear VilNews readers,
I am very pleased with the good response and comments we have received from many of you, and I hope you all will continue to comment and engage in the Lithuanian related topics we are bringing up! Many of you reading this today are new readers of VilNews. You are all warmly welcome to our group of readers, and I am happy to see that we are getting new subscribers every day now!
I started to work as a journalist 35 years ago, when I began writing for one of Norway's leading newspapers, and I have since covered quite a few different fields such as politics, foreign affairs and architecture. But an architect I really am, educated at the Norwegian Technical University and with additional education in 'architectural psychology' in Strasbourg, France. One of my main interests has been the preservation of older buildings and urban environments, and I am particularly focusing on a holistic approach to architecture, this that the space between the buildings, the streets and squares, is emphasized and thoroughly planned as much as the buildings themselves. And I am always concerned about the human dimension; that there should be created and maintained environments in which humans and human activities are given priority over cars and asphalt.
It was therefore no wonder that I fell in love with Vilnius Old Town immediately when I first came here in 1990, and I give Russian writer Daniil Granin absolutely right when he claims that Vilnius 'catches and changes your soul'. This city has soul and a completely unique atmosphere that few other places I've been to in my life can compete with.
Vilnius has been given many nicknames over the centuries, such as ' The world's most Italian town outside Italy' and 'The world's most Baroque city north of the Alps'. When Napoleon Bonaparte in June 1812 came here on route to Moscow, he experienced a vibrant urban environment where he saw something he had never seen in mainstream Europe; a city where Jews and people of other nationalities lived side by side in peaceful coexistence. He soon also became aware that this city was in many respects the world centre of Jewish intellectualism, and it was him who from then of began to refer to Vilnius as 'Jerusalem of the North'.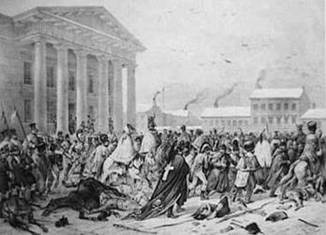 Napoleon's Army at the Vilnius Town Hall, November 1812. 
Thousands of his soldiers died here in Vilnius during their retreat from Moscow.
The mass graves were uncovered in 2002. 
Capitals around our world have their special characteristics that are often the main symbols of the countries they represent. Paris has its Eiffel Tower. London has its bridges. Rome has the Colosseum. Washington has the White House, and Berlin its Brandenburg Gate. Vilnius has its wonderful Old Town that once was among the world's greatest symbol of tolerance and peaceful coexistence for and between many different nationalities and cultures. This is the identity our dear Lithuania again should develp. Vilnius Old Town is ready and renovated to show the path. 
Aage Myhre
Editor