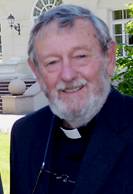 Dominican Father
David O'Rourke
As pastor of an old church, on brick foundations, in earthquake country I never go into any public building without making a mental note on how to get out – fast – if needed. I am also an opera fan, and always check on 'what's playing' at the opera house before booking a flight to Vilnius. The cultural life in Vilnius is spectacular.
But, there has been – and at last look there still is – a heavy chain and padlock of one of the two sets of exit doors from the Opera House. I suppose that the old Soviet janitor who had the key has long since gone to whatever retirement. But if there were ever an emergency and everyone had to get out fast they would never make it.
But then, the man in charge of doors will say, "But there is that whole other set of doors – the entrance set – on the other side of the building." Sure….
This locked exit door and the lack of hand rails to help going down the outside steps, by the way, has provided me with a metaphor of the Soviet system in one of my poems. Under Stalin and Co no one cared (or even wanted to think about) how you got out of a privileged place like the Opera, or how you went down after it was over. There was only going up. Going out, doing down, God forbid.
David O'Rourke
California, USA.