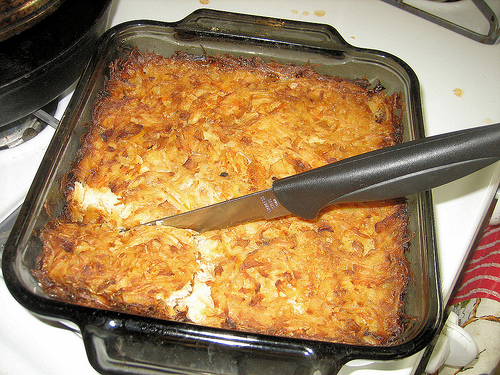 Photo by Yours For Good Fermentables.com
I'm very excited to share this recipe with you because
KUGELIS IS MY ABSOLUTE FAVOURITE  :o)

Once again I have been elected to share a traditional Lithuanian recipe with you due to the fact that I am so very "culinary challenged". Please remember that I need to be supervised when I'm in the kitchen so that I don't hurt myself. But the powers to be of VilNews feel that I'm the best person to share these recipes since if a person with my limited cooking skills can cook these tasty meals than it shows to every one how easy they are to prepare.
Kugelis is quite easy to make. The only thing a little confusing about making kugelis is what recipe to use. All recipes for traditional foods of all nationalities have their own little twists to them based on the recipe from one family to another. Recipes for traditional Lithuanian meals are the same.
However for kugelis??????
I think that kugelis has more variations for recipes than any other Lithuanian dish. So in formulating this recipe I took about six different recipes and averaged them out and gave ranges for some ingredients and options for the milk. All said and done, if you made kugelis from the six different recipes I used, in the end they would all be about the same and it would probably be difficult to taste or see the difference if you put a piece of each of the six on a plate.
So – Don't worry about it. Just have fun!!!
What you will need
10 lbs./4.5 kg. potatoes
1-1 ½ lbs./.5-.7 kg. bacon or pork or chicken
3-6 eggs
2 large onions
1 can evaporated milk or 12 oz. scalded milk
Salt and pepper
Potato preparation
Peel and grate all of the potatoes.
If you do not have an Electric Potato Grater,
use the side of the hand grater with the smallest holes.
The consistency is important. It should be like apple sauce.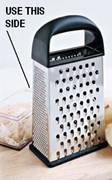 Unlike the potatoes for cepelinai, you can use a much wider variety of potatoes for kugelis
since the baking process will darken them and give a bit of a yellow tint.
Again we would not recommend using red potatoes though.
And yes by all means Sig and Rima you can use the purple potatoes!!!
You will have purple kugelis but I'm sure it will taste great and
after all there's a first time for everything.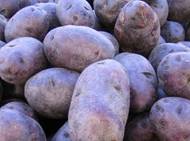 Just as we mentioned with the recipe for Cepelinai, the most time consuming part of making Kugelis is grating the potatoes. This is why many people don't make this easy to make dish very often. This is also why many people got the Lithuanian Electric Potato Grater. It will grate 10 lbs. of potatoes in a matter of minutes. It is available through the Lithuanian E-Store www.balticvalue.com
They have it in both the 110 Volt and 220 Volt models and they ship world wide.

Drain the excess water from the grated potatoes.
The best way is to place grated potatoes in a doubled cheese cloth and squeeze.
A less strenuous way is to put the grated potatoes in a colander and let the liquid seep out.
Important – Drain the liquid into a pan.
When finished pour off the liquid and put the potato starch back into the grated potatoes.
Meat preparation

Cut the bacon into thin strips.
Fry up the bacon and finely chopped onion together.
DO NOT drain out the grease.
The bacon grease is an integral part of the consistency of the cooked Kugelis.
A note about the meat
You can use unsmoked or smoked bacon, it's all a matter of personal taste.
I don't think I would recommend bacon cured in maple syrup though.
You can but the packaged and precut bacon or you can buy the "slab bacon".
The "slab bacon" is what is called šoninė in Lithuania – Pork belly
While using bacon is what some would say is the "traditional" meat, I can honestly tell you that I have had Kugelis made with about any variety of pork cut you can think of. I've even had Kugelis made with chicken or turkey. All variations were delicious.
Mixing all the ingredients
Pour the milk into the drained grated potatoes and mix well.
Add the fried bacon and onions into the potatoes (grease and all) and mix well.
Beat the eggs and add into the potato mixture.
Some people recommend that you beat each egg and add it separately???
Add salt and pepper to taste.
Once all the ingredients have been blended well,
Pour mixture into a medium depth, greased backing pan/dish.
Baking
Be sure the oven has been preheated.
Again this is a source of discussion.
Some say;
Bake at 425F/220C for 15 minutes then at 350F/180C for 1 hour
Bake at 425F/220C for 15 minutes then at 325F/165C for 1 hour
Bake at 350F/180C for 2 hours
Bake at 350/180C for 1 ½ hours
The best way is to cook it at whatever temperature you think will work for however long you think is enough – When the top is a golden brown and there is a darker crust around the edges it is DONE.
Remove from the oven and let sit about 20 minutes and then cut and serve.
Sour Cream is a great topping.
Here are a few things to consider.
Maybe using 10 lbs./4.5 kg. of potatoes is too much for the meal you are planning so you may want to use 5 lbs./2.5 kg. of Potatoes. Now this may sound kind of strange but every one I have talked to has said that the amounts of all the other ingredients stay the same – You just use less potatoes???
Even if you cook up a big batch of Kugelis and there is some left over don't worry
BECAUSE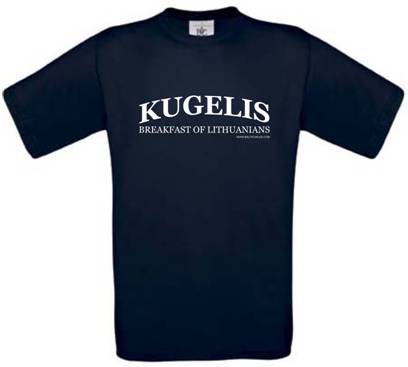 Fry up some of the left over Kugelis in a pan with some eggs
And this makes one fine breakfast.
In fact this is why I always make a bigger batch than I need just so that I can have Kugelis for breakfast the next day. In spite of what you may have read about "traditional Lithuanian breakfasts" in books, I can tell you that in Lithuania very often what you had for dinner last night is what you have for breakfast (and lunch) the next day.
Skanaus
Vin Karnila