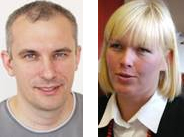 Eglė Songailienė and Vaidas Levickis, members of the Business Administration Faculty at LCC in Klaipeda.
LCC International University in Klaipeda has welcomed a new initiative on campus - the Institute for Innovation Design. The idea to launch this new project, which will contribute in transforming challenges into opportunities, was developed by Eglė Songailienė and Vaidas Levickis, members of Business Administration faculty.
The Institute will have a group of professional qualitative researchers, who will bring unique skills and competences to the project. Key activities of the Institute will include various researches and projects. The Institute will work with various organizations to help them better understand the needs and experiences of the people they serve and create innovative solutions.
The Institute will host 12 monthly sessions for leaders about the best innovation practices, the latest breakthrough ideas and transformative intellectual conversations in literature. It will also offer a summer internship program, which will provide students with unique hands-on work experience, in collaboration with faculty members.
The Institute for Innovation Design will not only work to help organizations better connect with the people they serve and design customer experiences with great value to business, but also offer new, creative initiatives for LCC students.