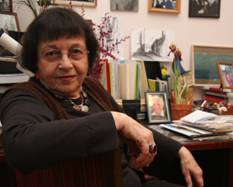 Dr. Irena Veisaite, Chairwoman of the
VilNews Honorary Council
Professor Irena Veisaite, Chairwoman of our Honorary Council, has asked us to convey her heartfelt greetings to the other Council Members and to all readers of VilNews.

"My love and best wishes to all. As long as VilNews exists, there is hope for the future," she writes.

Irena Veisaite means very much for our publication, and we do hereby thank her for the support and wise commitment she always shows. You can read our interview with her HERE.