Rūta Šepetys and Ellen Cassedy


Probably our relatives brushed shoulders in the marketplace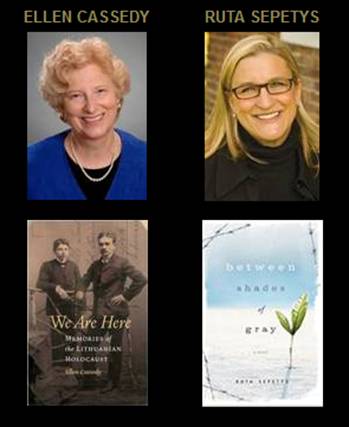 Rūta Šepetys and Ellen Cassedy interviewed by Jennifer Virškus
Two new books making a splash in the literary world—Between Shades of Grey by Rūta Šepetys and We Are Here: Memories of the Lithuanian Holocaust by Ellen Cassedy—take place in WWII Lithuania. Though the two women's stories begin in much the same place—Sepetys's grandfather is from a village near Biržai, while Cassedy's great-grandfather hails from Rokiškis only 60km away—the books, and their stories, couldn't be more different. We Are Here is a first person memoir about Cassedy's journey to discover her Litvak heritage while studying Yiddish at Vilnius University. Between Shades of Grey is a young adult fiction novel about a 15-year-old girl who is deported to Siberia along with her mother and younger brother.
Individually, the books have met with incredible success. Between Shades of Grey, which came out in paperback this month in the US, has been translated into twenty-five languages and sold in thirty countries. Only in bookstores for a little over a month, We Are Here is racking up rave reviews at home and abroad. When speaking of the book, which will be released in Lithuania in May, former president Valdas Adamkus said, "This eloquent book can help us to reach out, open our hearts, and rediscover one another in a spirit of mutual understanding."
Indeed, the need for understanding is a theme in both books, and together, they provide a more complete portrait of a time in history when Lithuania's identity was at its most complex—not only for their readers, but for the authors, too. "I went to Lithuania, hoping to decide who was right and who was wrong; to put people in a column, who was a victim, who was a killer. And then those lines began to blur," says Cassedy.
Šepetys went one step further, "The intersection that I've experienced [between the ethnic Lithuanian fear of the Soviets and the Litvak fear of the Nazis] is one of regret … People that I've spoken to say that some of their greatest regrets weren't the things that they forgot to pack with them; they were human interactions with people. Something that was said or done, a suspicion or paranoia; but they also explained that those are the casualties of war."