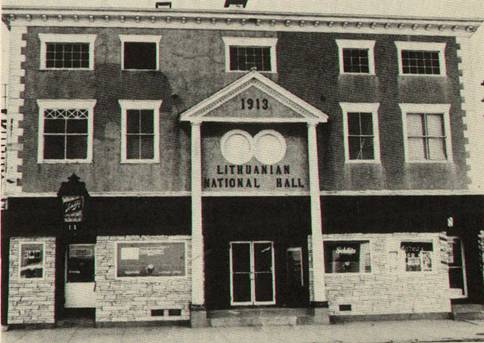 Lithuania Hall, Brockton, Massachusetts, 1913
This article was written by JOHN BERNOTAVICZ, BS, MS, PhD (1913-2009) for Lituanus (Lithuanian quarterly journal of arts and sciences) in 1990
On Sunday, April 24, 1988, l drove from Hyannis to Plymouth to pick up Mrs. Florence Melevsky, my sister-in-law, so we could attend the 90th anniversary for St. Rocco-St. Casimir Parish in Brockton. Originally, all we had was a basement church, as l remember it. Now, over the basement towers a huge bell-towered edifice.
The following credentials will establish my family and my roots in this parish.
My father, Mykolas Juozas Bernotavicius from Marcinkonys, Lithuania, was married on June 1, 1905, to Ona Geceviciute from Varėna, Lithuania, by Father M. Peza in the old wooden church on Webster Street. Later, this building became our church hall. Although my parents had four children, l was the only one to survive beyond infancy. Because my birth occurred on St. John's Day, June 24,1913, l was baptized John. On June 11, 1939, l married Amelia Veronica Jermolaviciute (the youngest of seven sisters) in this basement church by Father John Svagzdys. Our two children, John (a graduate of Notre Dame University and Georgetown Law School) and Mary (a graduate of the Georgetown School of Nursing) were christened here in 1943 and 1946, respectively. In addition to the above data, my parents and my wife were buried from this church. 
As we descended the steps to the hall, a flood of memories of long ago surged through my mind. Nowhere in sight did l see the confessionals, nor the organ or choir loft, nor any pews or stations of the cross, nor any main altar with two side altars—only a huge expansive area filled with long tables and chairs prepared for a family-style feast for the parishioners and friends of the parish. At one end we saw an hors d'hoeuvres table. Other tables along the sides of the building were lined with pictures, photos, newspaper clippings of past functions, mementoes of other activities and paraphenalia illustrating past history of its parish and people.
During the 1920-1935 era, Brockton, a bustling city of 55,000-65,000 inhabitants, was known as the world's largest shoe manufacturing center.