Need some peace of mind?


Try a boat trip on the
Nemunas and a spa visit
to beautiful Birštonas!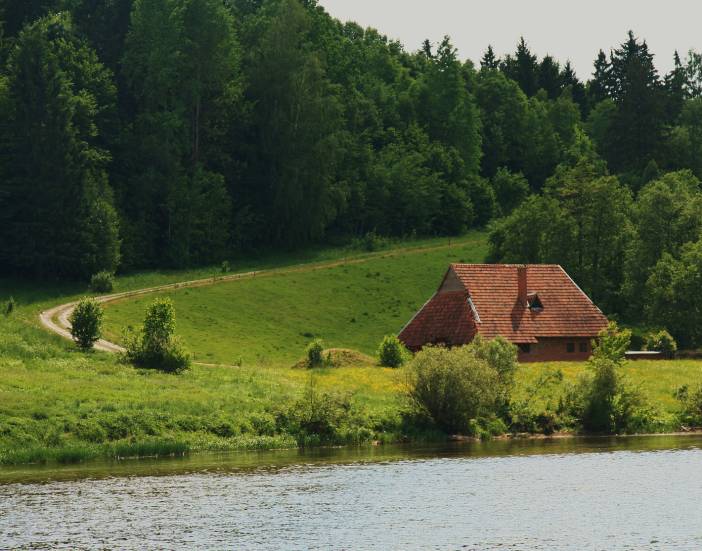 An old house on the Nemunas river bank near Birštonas
Text and photos: Aage Myhre
aage.myhre@VilNews.com
Lithuania's largest river, the Nemunas, is a slow and peaceful river; with an average speed of only 1 to 2 m/s. Its total length of 937 km makes it the 14th largest river in Europe. 459 km flow in Belarus, 359 km in Lithuania. Well, we called it peaceful, but if you agree to join us for a trip to the small resort town of Birštonas, one hour's drive from Vilnius, you will soon realise that it's right here that Nemunas gets a bit crazy, making four large loops without any other reason than this that Birštonas needed some special attention and minerals that over the centuries has made it such an attractive spa resort. Birštonas is suitable for therapy and recreation all year round with its curative peat and mineral water used in treating chronic diseases of peripheral nervous system, gastrointestinal, respiratory and blood circulation systems. The first patients were treated in Birštonas as early as 1840. Enjoy!
Rūta Kapočinskaitė is my Birštonas heroine. She has understood what it takes to represent a tourist destination with energy and genuine attention to the visitor - much more so than representatives of the majority of destinations in this country. So, if you are a Lithuanian working in the tourist trade, don't miss the chance to learn from Rūta. It takes enthusiasm to promote a destination, and Rūta has got plenty of exactly that. She is simply good!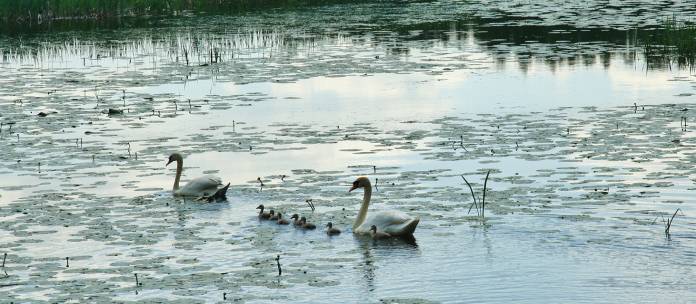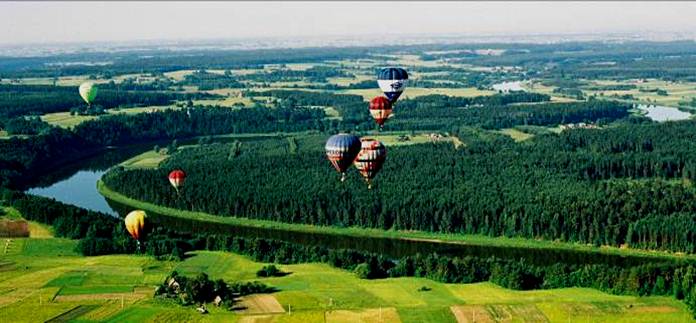 Why should people come to Birštonas? This is my first question to Rūta, and her reply is quick and without hesitation; "Because of everything we have to offer. There is simply no better place than Birštonas!"
But let me tell you a bit more about the history of this remarkable place before Ruta start her sightseeing show with us.
As I said above, it is the loops of Nemunas River that has created the very special landscape here. In earlier times, the loops represented great difficulty for ship navigators. Even the rather precise maps of the Grand Duchy (Magni Ducatus Lithuaniae) had not registered the loops correctly, and it was only in 1777 that such registration works were started. In 1852, the Vilnius University professor Abicht finally succeeded in outlining the loops in a proper and correct manner.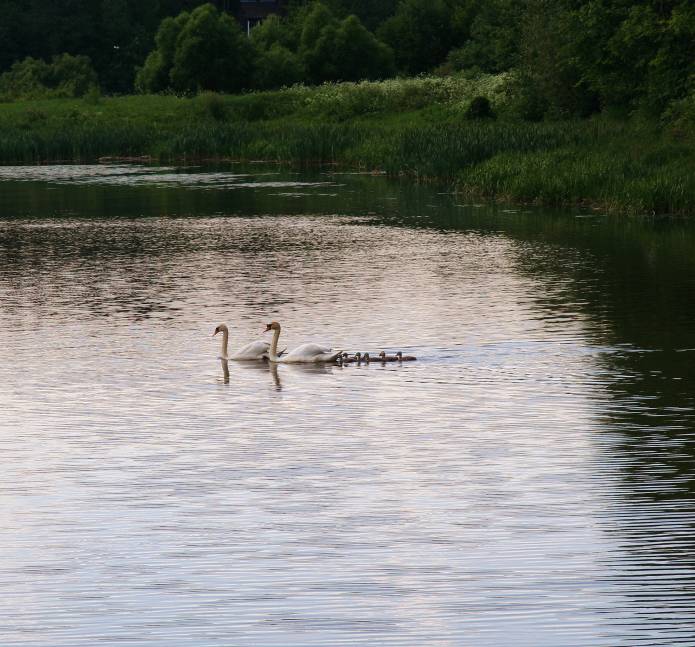 The river loops have made the Birštonas landscapes more rolling than the rest of Lithuania. Here you can find rather deep valleys and steep riverside banks of more than 40 metres height. The river itself is on its widest four kilometres.
The other landscape feature I am sure you will recognise as soon as you show up in Birštonas is the fantastic forests which occupy more than half of the municipal area. Beautiful, tall pine trees are the dominant, but also birch-trees and other broad-leaved trees will certainly make your forest walk more than unusual.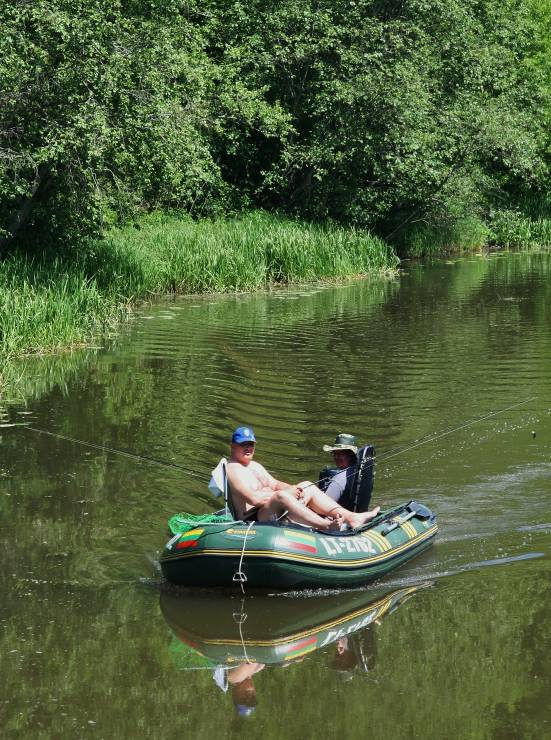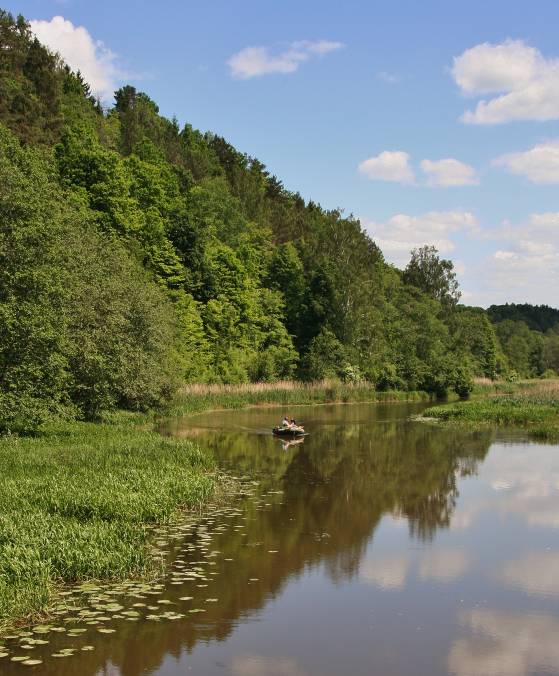 It goes without saying that there is an extensive wild life along the Nemunas shores. Birds, animals and fish in different variants and sizes – they're all here. The biggest fish caught here is said to have been a catfish of close to 60 kgs!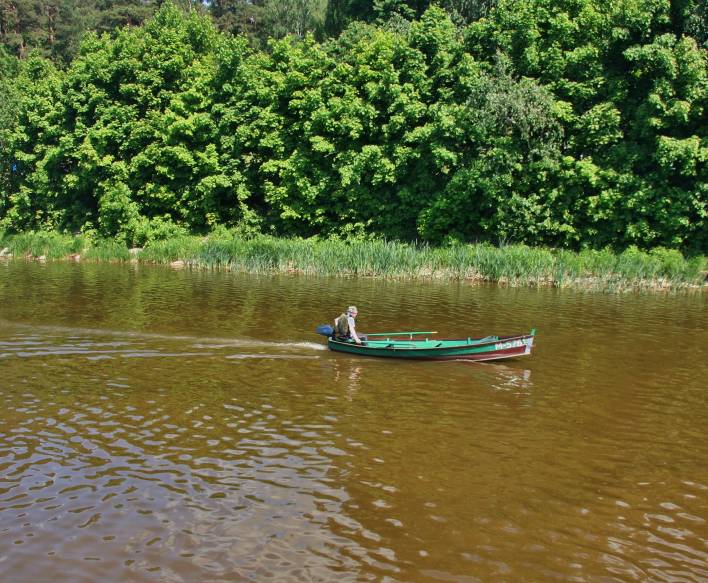 The biggest fish caught here in Nemunas next to Birštonas is said to have been a catfish of close to 60 kgs!
People have been living peacefully in the Birštonas area since ancient times, with its first recordings back to the 4th millennium BC. In the 13th century, however, the crusaders changed this peaceful life, and the people of the present Birštonas lands had to start defending themselves from conquer campaigns. This lead to the construction of mounds, wooden fortresses and defensive castles. The most famous wooden fortress was erected on a mound called Vytautas Hill, and it was next to this fortress that the town of Birstonas started growing up in the 14th century. The name Birštonas was first mentioned in the 1382 chronicles of the Crusaders, as "a homestead next to salty water" (Birstain, Birstan).
After the 1410 Grunwald Battle, the fortresses lost their significance, and the victorious Grand Duke himself (Vytautas the Great) took over the Birstonas Castle as his private hunting mansion. Since that moment, Birštonas became a very much beloved area for hunting, visited by many European Kings and Dukes on the invitation from Grand Duke Vytautas. The forest keeps the name Žvėrinčius (full of wild animals) after these glorious times for both Birštonas and Lithuania.
In 1519 Birštonas was already referenced as a town. It had about 600 inhabitants, and there were four beer-houses and two whisky taverns. A town of hospitality already back then!
I have not been able to find out if the whisky was brought to Birštonas by Scotsmen, but what I have found is that the Hungarians started showing interest for the area already in the 16th century, even being rendered the rights of the city for 40 years. In these times royal stud of horses thrived in Birštonas.
Modern Birštonas, however, has first of all gained its fame after the 19th century detection of healing mineral water from several springs in the area. 1846 is the great year for Birštonas as a spa resort, from then of visitors from many countries have come here for their healing.
"So you see, Birštonas is really the place to visit if you want to heal your body or soothe your soul." Rūta is back, waking me up from my travel back in time. And from now on, I am again under her attentive control, going for a sightseeing walk around Birštonas – because here the distances are short and no car or bus is needed.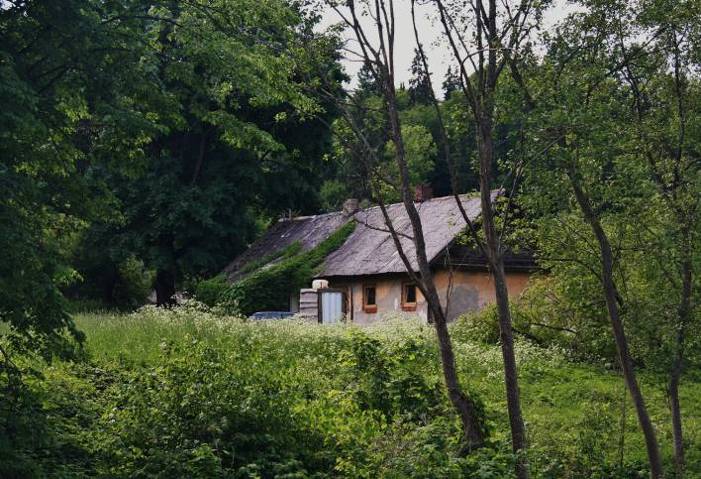 Go for a sanatorium week-end in the "Royal Spa Resort" of Birštonas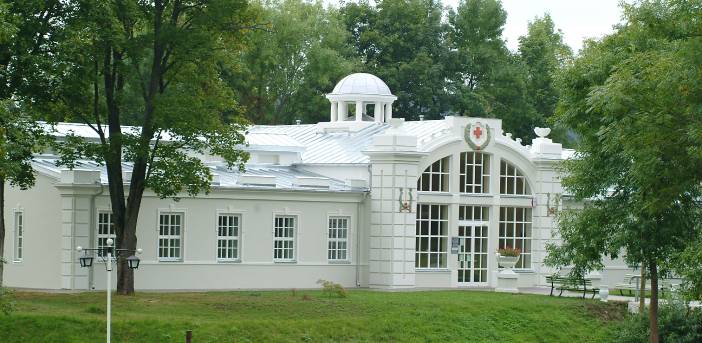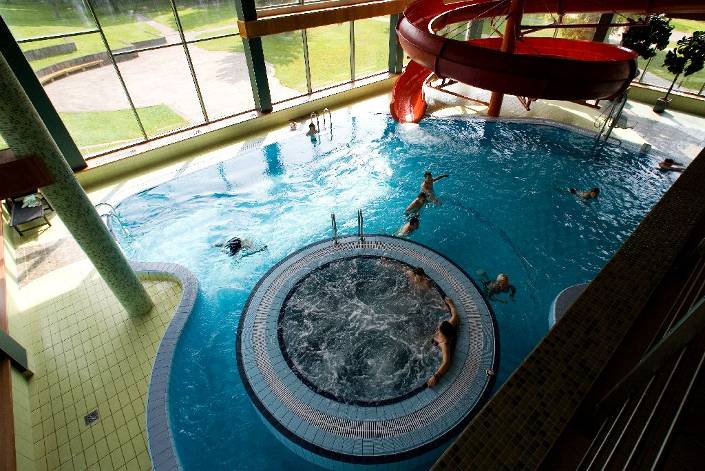 "A week-end in Birštonas helps for almost everything", explains our enthusiastic guide Rūta Kapočinskaitė when she leads us to the place where the town's first sanatorium was built in 1846, where today's modern sanatorium "Tulpe" now is located, at the very bank of the Nemunas River. And it's here you should come to spend a week-end to heal your body and soul.
Birštonas is recently accepted as a member of the very fashionable club "The Royal Spas of Europe" which all have as its common intention to meet the highest quality described in a catalogue of criteria which includes what has to be complied with by the Royal Spas of Europe with respect to their offers for health, wellness and fitness, thermal facilities, medical care, infrastructure, standards of hotels and cultural events.
But we are in Birštonas now, and if you agree to come here for a weekend, the treatments will start already upon your arrival on Friday afternoon, and continue throughout the weekend with all kinds of baths and treatments – in mineral or herbal water, or in healing mud. Massage procedures of all kinds are also important ingredients in the programme.
I have, myself, no clue what they mean, all these terms the experts in the Tulpe Sanatorium use when they try to explain me about their methods and the results thereof, so I have no other choice than to "cheat" a little bit by simply referring to what is written in their brochure:
"A few days in Birštonas are sufficient to regain spiritual equilibrium, serenity, good mood, to get rid of nervousness, general body weariness, and tiredness. The microclimate of Birstonas resort and mineral waters are most suitable for treating illnesses of digestive system, joints, spines, and gynaecological and oenological diseases. The place has a positive effect on the central nervous system, suits the purpose of the genera rehabilitation and, of course, is ideal for having a rest, The personified health programme that is prepared by qualified specialists according to the client's needs with a menu prepared by dietologists (whatever that is) will ensure you recuperate quickly and regain energy with the best of spirits".
The Tulpe Sanatorium can also offer a place for you to stay during your visit, in their own little hotel close to the river and with the town and its surrounding forests within a few minutes walk away.  
And in addition to this, the Sanatorium offers you to talk with your colleagues in one of their conference rooms, where up to 100 persons can be seated.
"You see," says Rūta now, "Birštonas has it all."
Experience a healthy outdoor life in Birštonas    

I knew in advance that Birštonas had very much to offer in the summertime, when people here are becoming very active with river-sports in their boats, canoes and kayaks, or on bikes, horseback or foot in the forests and the sport arenas. But I did not know that Birštonas now also has quite a bit to offer during the winter time, especially after the two new ski slopes opened, almost in the very centre of the city.
Rūta grabbed the director of the ski-centre, ……., out of his office asking him to come up and show us the two tracks – the 160 m long blue track and the 300 m long red track – so here we are, seeing that Birstonas has developed their own Alp mood with modern ski lifts, snow canons and other equipment that makes this place a real paradise for skiing enthusiasts.
And, as if that should not be enough, next to the ski tracks a skating ring for kids has been developed.
But, of course, the summer time is soon here, and that's when Birštonas really shows you what a healthy outdoor life means.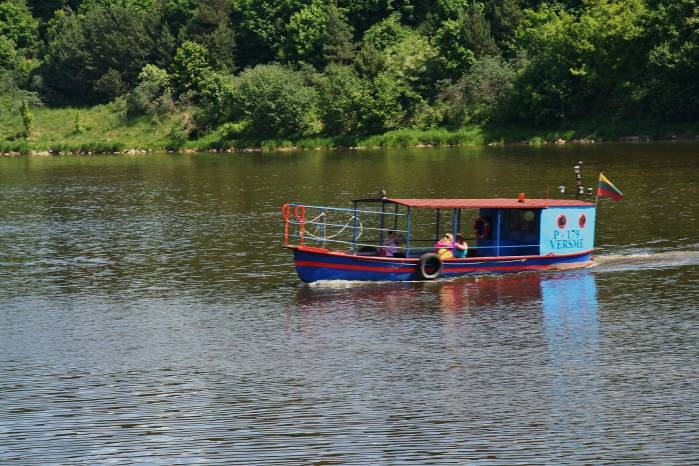 Birštono Seklytėlė - a genuine country tavern on top of a steep river bank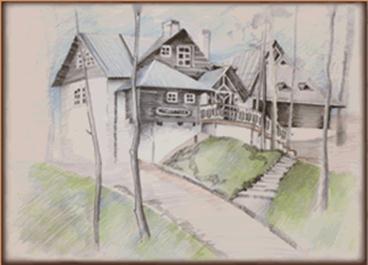 We are in Birštonas and lunchtime is approaching. So, like so many others have been doing before us both during and after the Soviet times, we drive up the hill to the famous tavern (seklytėlė) on top of the Nemunas River bank two kilometres from the town centre.
This is the place where you certainly will get a feeling of being close to the nature either you sit inside or on the view-terrace outside. The restaurant windows and the terrace both overlook the spectacular landscape and the river itself. This is the place for a rich lunch or a nice dinner, relaxed and in the middle of the nature. Overlooking the Nemunas River this genuine tavern is a favourite of locals and foreign visitors alike. It offers a vast array of tasty food and beverages in a cosy setting with original Lithuanian interiors and a fire place that is lit on cold evenings. On most evenings make live music makses this a highly desirable place to while away the hours with friends.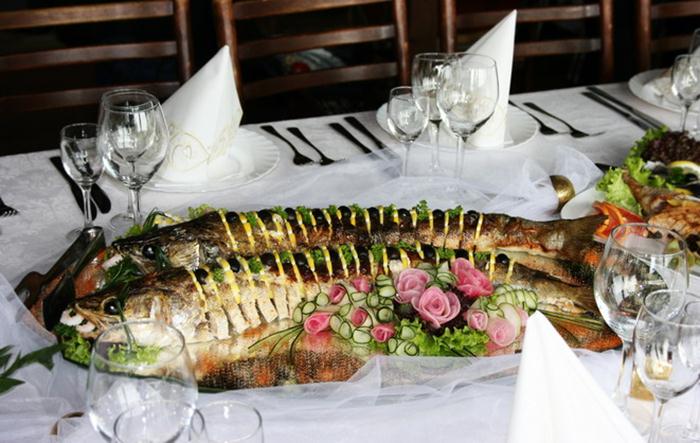 We had a good lunch consisting of local fish from the river and beef from the fields nearby, and our waiter really did his utmost to make us feel at home.
So our conclusion is simple but tasteful; - that the Birštono Seklytėlė is a must to visit for everyone coming to this region.