Northern Europe's best
summer climate!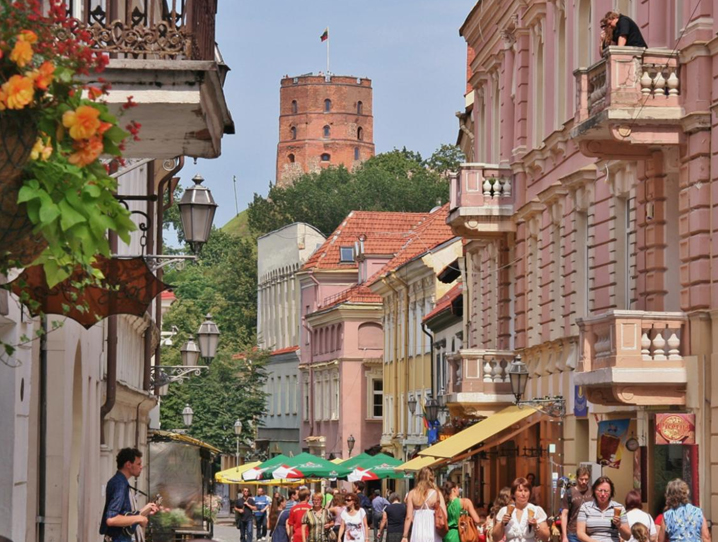 THURSDAY 26 JULY 2012: Pilies Street, the vibrant, active pedestrian street
in the heart of Vilnius Old Town. You should come here to enjoy
Northern Europe's best summer climate. Why wait?
There are still many around the world not knowing what a wonderful summer climate Lithuania is blessed with. I myself was very surprised when I came here 20 years ago and found a country and a city, Vilnius, where temperatures and number of sunny summer days often are comparable to what you otherwise would have to travel much closer to the Mediterranean beaches to find.
What I also have seen during these 20 years is that while many neighbouring countries quite often suffer from either drought or floods, Lithuania normally avoids such disasters. We can have heavy showers, but they usually last only a few hours and rarely cause major damage. We can have temperatures up to 35 degrees Celsius (95 Fahrenheit), but the normal temperature level is within comfortable 22-30°C (72-86°F).
Right now the summer is just great here, although this year we have not had as much sunshine and as high temperatures as we are accustomed to. Forecasts for the rest of July, however, are phenomenal!
The great summer weather is in stark contrast to neighbouring countries in Scandinavia and north western Europe where one this year is experiencing one of the coldest and wettest summers ever. The powerful winds and the worst rain showers from the Atlantic Ocean have virtually lost all power before they come here.
Hurricanes and severe storms are, at worst, a slight breeze on those few occasions when they reach Lithuania. Rain storms are reduced to light drizzle when they arrive here. But usually the bad weathers do not reach as far east as hereto.
Unfortunately, the winter months here are not that excellent. They can often be cold, nasty and very gloomy. Fortunately, we rarely experience heavy winds, and it is usually not too much snow. The worst of the winters here is the gloominess, and that the temperatures may well drop down to minus 25-30°C (minus 13-22°F).for extended periods.
But it often happens that in April the summer arrives in full force and remains here until November. So now we are in the middle of the fantastic weather period. No reason to complain, in other words. Winter is many months away.
Now it's time to enjoy the lovely summer here. The best in Northern Europe!
Aage Myhre