Help us make VilNews
even more successful!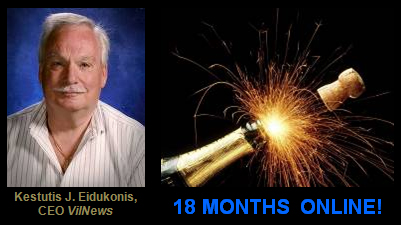 Dear VilNews Readers,
First of all, thanks to all of you for your kind words, suggestions, comments and support for VilNews.   We have always felt very strongly about the wonderful potential of Lithuania in the world.  It is a country of much beauty and fascinating multicultural history – a nation now represented in all corners of the world.  We have been very pleased to provide a forum for a free, open and respectful dialogue about the past, present and future of Lithuania.  The Staff and I have taken your advice to heart and decided to continue publishing VilNews and possibly also publishing a Lithuanian version of it.  For this to occur we will need additional financial support.
We cannot continue to carry the full financial cost of publishing and disseminating VilNews on our own.  We feel that all of us have a vested interest in the success of VilNews.  In order to continue and expand this great publication we need your help.    
If you can, please make a financial contribution to VilNews.  At the present time we can only accept checks or money orders made out to UAB VilNews. Please write me if you consider contributing.
If you know of any business that should or could advertise in VilNews, please contact them.  We are looking for sponsors and advertisers.
Please check your e-mail contact lists and suggest www.VilNews.com to all your friends who are interested in Lithuania.  You would be surprised, how many of them have not heard of us.  VilNews has also two different pages on Facebook, so go in and "like" us and participate in our ongoing debates.
I am sure that all of us working together can make VilNews even more successful than it already is. 
Sincerely,
Kestutis J. Eidukonis
CEO VilNews
kestutis.eidukonis@VilNews.com